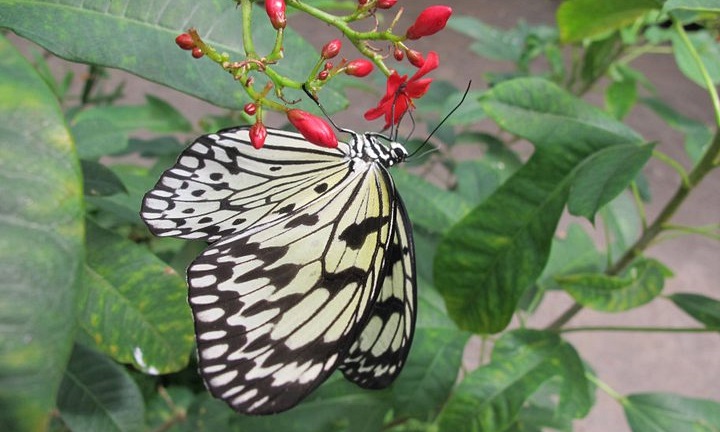 FLUTTER BY: The opening of the Butterfly Jungle, the impressively large and lovely butterfly attraction at San Diego Zoo Safari Park, is especially well-timed each year, at least for many Californians who love their winged insects. It generally opens at the very, very, very end of the Monarch Butterfly season along the Central Coast -- although, honestly, that really starts to wrap in late February -- and it is still a few weeks ahead of the opening of Butterfly Pavilion at the Natural History Museum in Los Angeles. We won't call Butterfly Jungle a stop-gap, by any means, but when you're an enthusiast, you like the events and destinations and happenings to keep pretty consistent.
2013 INFO: It debuts for the season on Saturday, March 16 and flits -- we can hardly write this post without inserting the word "flits" -- right through to Sunday, April 7. Some 30 species will be highlighted and the new residents? They'll wing in from Asia, Africa, and Central and South America. And when we say "wing in" we do mean they'll emerge from pupae (some 500 pupae of various butterfly species just arrived at the park). The result? "Thousands" of butterflies will call the Hidden Jungle aviary home. Will one or two land on you? Please. That's why we all walk into Butterfly Jungle, right? With the hopes that we'll become a temporary perch?
ALSO NEW: Safari Park juuuust welcomed a new Southern White Rhino on Feb. 25. As in baby rhino. His name is Kayode and, according Jane Kennedy, the park's lead keeper, he's a "little tank." That sounds pretty dang cute, so you might make a date to eye Kayode while on the grounds. Rhinos though? Even as babies, they're MUCH larger than butterflies. Call it a day of opposites.
Copyright FREEL - NBC Local Media