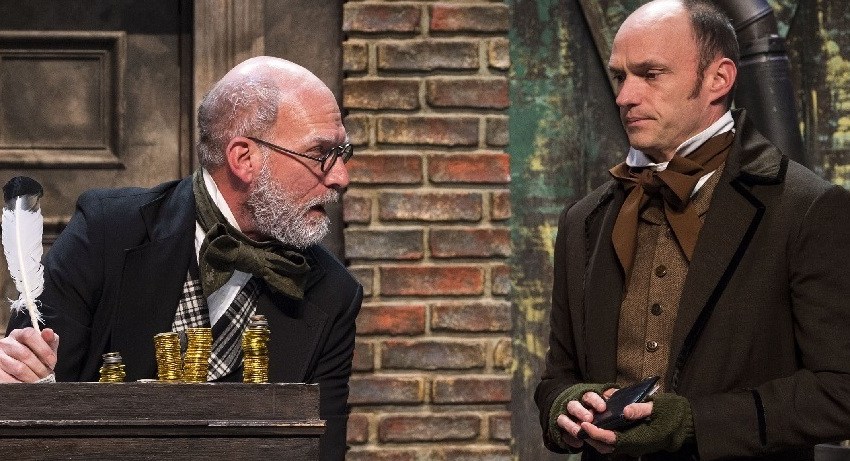 There's a very small yet iconic subset of plays and movies and books that regularly get revisited and updated for modern times.
"The Wizard of Oz" is certainly one such property; how many sitcoms have gone down the Yellow Brick Road? "Pride & Prejudice" is up there, too.
But no other property has shown the staying power, or perhaps come-back-around-every-December power, of "A Christmas Carol."
It's easy to see why, of course. The Charles Dickens tale of a sour, parsimonious man, some nocturnal ghosts, and the beauty of redemption and reawakening of the soul, will resonate as long as there are humans to read and watch it.
And every year multiple theater companies in Southern California and around the world revisit the story, in faithful and satiric and musical ways.
There are a number of offbeat "Carols" playing now, or soon to debut, so fans have their pick as to how they wants to get their ghost on.
Here are three unusual choices around town:
"The Second City's A Christmas Carol: Twist Your Dickens" is on now at the Kirk Douglas in Culver City. It's mirthful, it's sassy, it's beyond irreverent, and you'll see shout-outs to other classic stories of the season. Plus, random celeb cameos!
"Jacob Marley's Christmas Carol" takes a look at the story through the ghostly eyes of Scrooge's former business partner. That's interesting, right? We always liked Marley -- well, and felt sorry for him, too -- so he deserves more stage time. It's happening downtown.
"A Mulholland Christmas Carol" has a name in the title that suggests it definitely has a local focus. And is there also a dam in the plotline? Indeed there is. The Theatre of Note once again presents its cheeky and acclaimed musical about a certain historic figure.
Yep, it's a musical. Oh, "A Christmas Carol." Is there no form you can't take?
Copyright FREEL - NBC Local Media