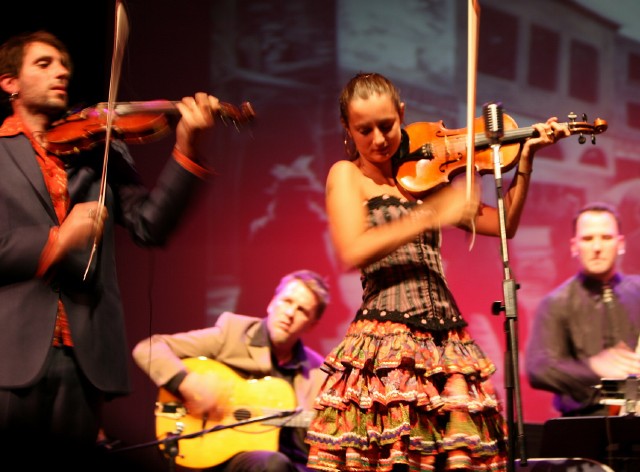 The Los Angeles County Holiday Celebration, sponsored by the LA County Board of Supervisors, is one of the glittery jewels in our city's cultural crown (and that is already some extremely sparkly head wear). That the annual celebration spotlights local artists, singers, dancers, musicians is wonderful.
That is takes place each and every Christmas Eve at the Music Center -- it is now celebrating its 50th year -- puts us in a cheerful frame of mind. That KCET broadcasts it live for those who are still baking or wrapping or just can't make it downtown? Thoughtful.
Oh, and it is free. As in, keep-those-bills-in-your-pocket, just-bring-your-smiling-self free. Did we mention it is six hours of free? It's on from 3-9PM at the Dorothy Chandler Pavilion on December 24th. Hard to say where else a person might find six hours -- let's just call it a fourth of an entire day -- of don't-have-to-pay-a-thing entertainment nowadays.
And the entertainment is varied, lively, applause-worthy, and so LA-licious. Some of the 2009 performers include Los Pinguos, Palmdale High School Choral Union, Lisa Haley and the Zydekats (some real foot-stomping tuneage there), Fishtank Ensemble, the Poncho Sanchez Latin Jazz Band, and Klezmer Juice.
Don't be intimidated by committing to six hours of full-on sitting and watching; guests may pop in and out of the Dorothy Chandler as they wish. We are all on our own schedules, so this is a good thing. And while we like making a plan and finding the acts we want to see -- they're listed on the web site -- we also like the idea of just showing up for an hour or two and seeing what surprises await.
There are two other quick things we want to mention. You can listen to the entire event on KPFK 90.7FM. And you yourself can carol and dance at Music Center Plaza.
Truly, a nice, note-filled, celebratory day in the City of Angels. Thank you LA County!
Los Angeles County Holiday Celebration, Thursday, December 24, 3-9PM, at Dorothy Chandler Pavilion at The Music Center
at 135 N. Grand Avenue
Copyright FREEL - NBC Local Media