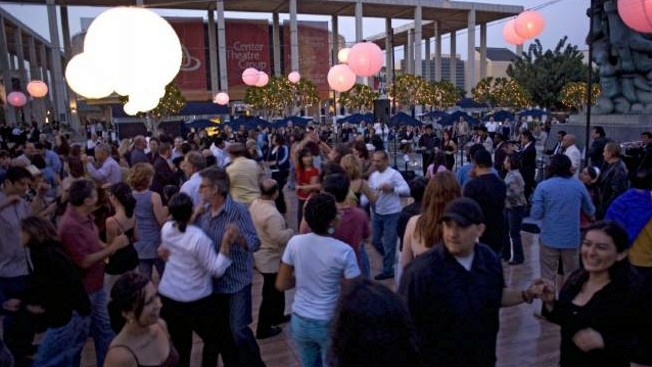 May Gray may have us keeping the scarves in the front closet, but the fact is that May, in most locales in the Northern Hemisphere, generally signals that summer is not far off.
Since things are slightly unusual in that regard, at least around marine-layer-laden Southern California, we need to look to other touchstones and hallmarks of the hot season.
We like it when those touchstones and hallmarks are free. Which means one of our favorite summer harbingers, year in and year out, is Dance Downtown. It's the free, every-other-ish Friday night event that sprawls and swings and shimmies across the lovely and rather cinematic setting of Music Center Plaza.
So take that, May Gray: Dance Downtown opens on Friday, May 4, which tells us summer is somewhere lurking behind those heavy morning clouds.
If you know this popular series, you know that each week focuses on a specific style. Salsa and merengue are the May 4 themes, and free lessons for first-timers happen at specific times throughout the evening. The dancing kicks off at 6:30.
A few adds. We called it an every-other-week event, so, as always, eyeball the schedule. Also? Loads of interesting styles are ahead, in addition to the two for May 4; looking forward to Ondo dance on Aug. 24 and Bollywood on June 29.
And three? Dress warmly, at least for now. Dance Downtown may not banish May Gray, but it can laugh in its face -- or, er, clouds? -- until that sweet summer warmth truly kicks in.
Follow NBCLA for the latest LA news, events and entertainment: iPhone/iPad App | Facebook; | Twitter; | Google+; | Instagram; | RSS; | Text Alerts | Email Alerts
Copyright FREEL - NBC Local Media