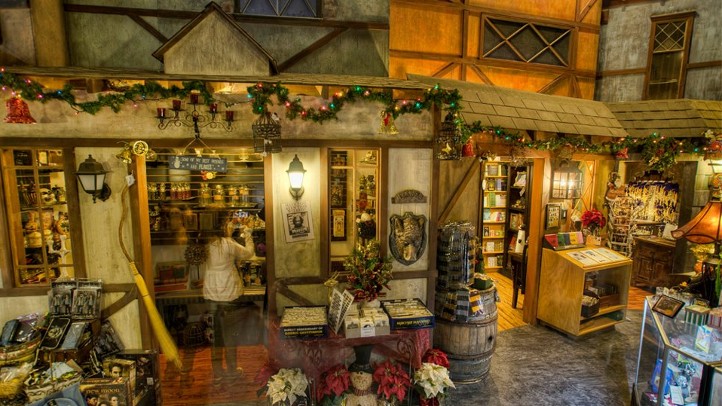 If you've ever been invited to a masquerade ball -- and we mean an event that actually uses those two words on the invite -- you well know that mileage can vary.
In other words, some attendees will go all out with the brocaded gowns and the fanciful feathered masks. And others? May or may not attempt to gussy up their jeans and sneakers five minutes before leaving home.
But throw a masquerade at a location where fantasy reigns and stories are supreme? That may well have a different outcome, and party goers will likely feel the need to "bring it." Whimsic Alley, the Wilshire Boulevard store devoted to all things "Harry Potter" (and a few things "Doctor Who"), is throwing its first masquerade ball on Saturday, Oct. 13.
Nope, you don't need to show as Hermione or Draco, but bet some fans will; still, you'll want to think in the world of castles and whimsy and outlandishness and long robes and such. That's merely our opinion, of course, and we'll doff our cap to any attendee who shows dressed as something very un-Potter-esque. Say, a robot from 2295.
One thing to note: This is only for the grown-up wizards; there is indeed an open bar, meaning you'll need more than a wave of your wand to buy a cocktail. We do like that Whimsic Alley supports adult events as well as its many kid-focused happenings. There's a strong over-18 contingent that loves the famous series, of course, but parties just for them are fewer and farther between.
Oh, and Whimsic Alley's Great Hall? It's pretty impressive. It's hard to believe, in fact, you're on Wilshire, just a few blocks off La Brea.
A ticket to the masquerade ball is $75.
Follow NBCLA for the latest LA news, events and entertainment: iPhone/iPad App | Facebook; | Twitter; | Google+; | Instagram; | RSS; | Text Alerts | Email Alerts
Copyright FREEL - NBC Local Media