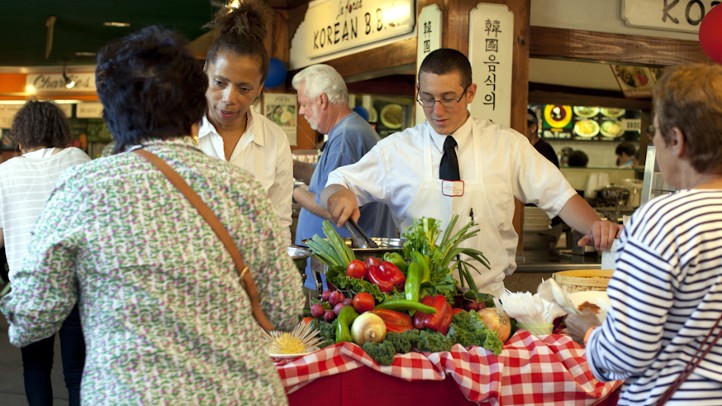 Think of your favorite place in the world outside of your house. What's the address? The intersection? How about its nearest light?
We know generally how to get to the places we love but specific locations? They elude us. But there is a local exception to this rule: The Original Farmers Market.
Did the street names "Third" and "Fairfax" just spring to your mind? That's because the world-famous public market been at that particular corner for 78 years; moreover, "Meet me at Third & Fairfax" have entered the vernacular.
And a lot of people will be meeting at Third & Fairfax on Tuesday, July 17 for Taste of Farmers Market. It's the centerpiece of the market's big birthday week, and, as you might suspect, it is very much about food.
The upshot? Buy a ticket for $40 and sample the best of the market's dozens of food stalls. Falafels, pizza, little garlic rolls, shrimp? Yes to all that, or things very similar to those things. It's a grazer's paradise, set against the classic green-and-white striped awnings and celery-hued chairs and tables.
If you can't make the Taste party -- and we definitely recommend, if you've ever wandered the aisles wishing you could snack on a bit of everything -- swing by Farmers Market through July 20 for birthday-themed specials and deals at the various stores and food counters.
Happy 78th, Farmers Market. You look swell. And, maybe best of all, you never moved away; rather you kept the old address in shipshape form. We'll see you at Third & Fairfax.
Follow NBCLA for the latest LA news, events and entertainment: iPhone/iPad App | Facebook; | Twitter; | Google+; | Instagram; | RSS; | Text Alerts | Email Alerts