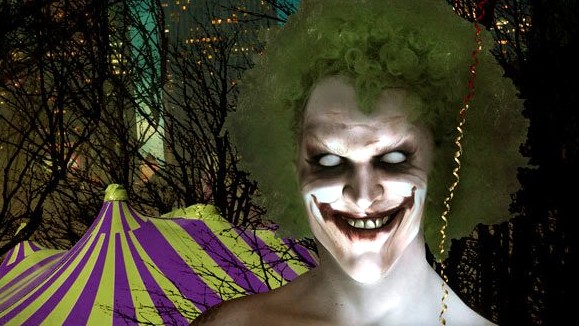 You know how in a movie made before, say, 1960, you'll see a bunch of characters on a hay ride, and eight out of nine of them are wearing gingham, and nine out of nine of them are singing about flowers, and everyone is apple-cheeked and freshly scrubbed and they're all thinking if it might be naughty to have *two* glasses of lemonade at the big town picnic?
The Los Angeles Haunted Hay Ride is the opposite of that. People sitting on the hay are not wearing gingham, for the most part. They are not singing, we hope. Lemonade is not top of mind. What is? The horror-making, fright-inducing things running after the hay wagon. The creatures emerging from behind nearby trees. The panting monsters getting all screamy and up in the riders' faces.
It opened on Friday, Oct. 7 at the Old Zoo in Griffith Park. This is exciting for horror fans, for many reasons. Old Zoo? Yep. Even the name blinks "atmosphere" on and off, like a huge marquee. A moving element to a haunted house? Unusual. And scares under the night sky? The teeth chattering already.
Let's note here that the ride is definitely not recommended for the 10-and-under set. It is "a high scare, high startle" experience. There will be no flirtatious hay throwing or sipping from the same glass of lemonade, in other words. What will happen? Lots of screaming and putting your face in your friend's shoulder is likely.
A general ticket is $25. You can get a private wagon -- it holds up to 35 people -- for $1,325. Why do we feel like that concept could be a movie pitch? "Three dozen friends, on a Halloween hay ride, didn't know what they were getting in to..." Hollywood, thank us later.
There are pictures and video. There are clowns. Some people have an issue with clowns. We're fine with them. Werewolf clowns, though, would be a whole different story. We don't want to see any of those out in Griffith Park. Again, though, that strikes us as a movie pitch. Hollywood? Hello? You there?
Copyright FREEL - NBC Local Media