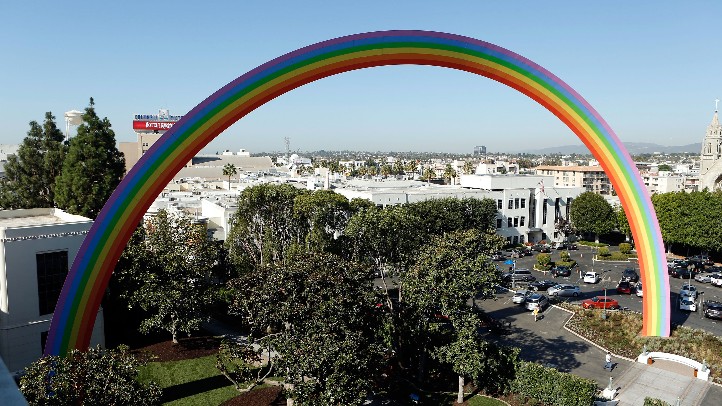 Rainbow-producing showers don't seem to come all that often to our often dry city, meaning that any colorful sky show will send hundreds of camera-wielding Angelenos outside, ready to snap a 'bow and post it on the social media network of their choice.
But that rainbow search just got a lot easier courtesy of artist Tony Tasset and Sony Picture Studios.
The artist's monumental "Rainbow" sculpture just made its big debut on Monday, Oct. 1. And when we say "big" there, we're not just reaching for unearned hyperbole.
The sculpture, which spans the distance from the lot's Madison Gate to the Thalberg building, reaches 188 feet across and 94 feet up. This means the steel polychrome arc "is visible in all directions," says a release. The sculpture is lending a little something new to Culver City's historic rooftops and water-tower-meets-hills skyline.
A Sony drive-on is required to get under the rainbow, but it can be seen from either Madison Avenue or Washington Boulevard, off lot (map). Seeing it from a distance is the way it was meant to be seen, given its huge proportions.
Tasset chose the rainbow "as a general symbol for optimism and well-being." Plus? "The Wizard of Oz" was made 'round those parts, as you have likely heard. Rainbows have something to do with that particular film, right? Thinking back. Yeah.
Perhaps the only thing to do the next time someone from elsewhere accuses Californians of being blissed-out and cheerful is to drive 'em by the rainbow and confirm that fact.
Bottom photo credit: Eric Charbonneau
Follow NBCLA for the latest LA news, events and entertainment: iPhone/iPad App | Facebook; | Twitter; | Google+; | Instagram; | RSS; | Text Alerts | Email Alerts
Copyright FREEL - NBC Local Media