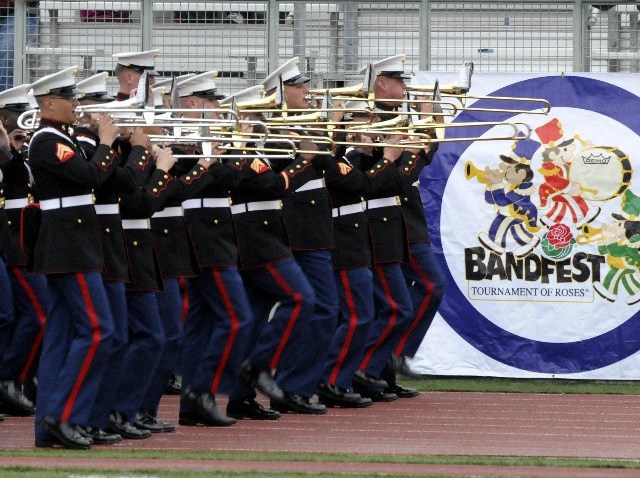 You might have heard, but a few people tend to tune in on New Year's Day for a local Pasadena event.
When we say "a few people," of course, we mean millions upon millions, here and everywhere, practically. When we say "local Pasadena event," of course, we mean the Tournament of Roses Parade. When we say New Year's Day we really do mean New Year's Day. No winks or cheekiness.
But there are several pre-New Year's Day events surrounding the parade, like Bandfest, that don't have quite the reach of the parade or game. If you wanted to take in the two-day, oh-so-brassy spectacle in the past, you had to be on the ground at Pasadena City College. But now Bandfest is going wide -- World Wide Web-wide -- in 2010. Meaning that if you can't get to PCC on Dec. 29 or 30, you can turn to the WWW to watch.
There is a cost for the webcast -- $8.50 for one performance (there are three Bandfest events in all) -- but part of your money can go to helping out a music program. Also, if you buy all three Bandfest performances in bulk, you get a discount.
Rosy. Will millions upon millions of people, here and everywhere, soon be watching Bandfest each and every year? If the parade and game are examples, then definitely yes.
Copyright FREEL - NBC Local Media