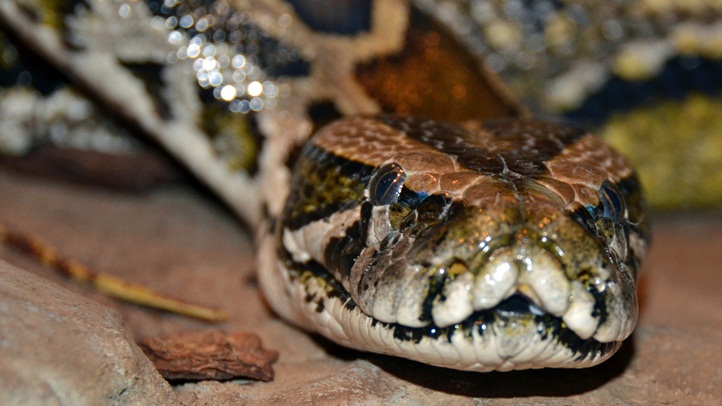 TWO WORDS: Whenever we hear about a big zoo event, it usually only takes us two or three words to lock into being sold. Such as? Ohhh, "koalas napping" probably is up there. "Monkeys frolicking" are two more tempting words, as are "spiders spinning." But few duos can top "snake feedings" for setting the imagination aflame. That's because snakes tend to be visual eaters, and not merely during the eating part of an exercise; the snake's meal can be very much viewed along most of its journey through the reptile, which provokes some "ews" from a watching crowd but more fascination. Snake feedings, in all of their glory, are set to be part of the Santa Barbara Zoo's Year of the Snake celebration on Sunday, Feb. 10.
ALSO ON TAP: An up-close encounter with Chief, the animal park's celebrity Burmese python. How much of a celebrity? Well, Chief is over ten feet and hits the scale at 40 pounds. That is a whole bunch of python, when you think about it. It won't be too up-close, of course, but you'll get a sense of Chief's impressive size.
ALSO AHEAD: The Santa Barbara Zoo also offers a Valentine's sleepover on Friday, Feb. 15. Never slept over at a zoo? Nope, you don't have to cuddle in with the antelope, although that sounds pretty cozy. You get your own human space, but plenty of lookie-loo-ing time with the beasties.
Copyright FREEL - NBC Local Media