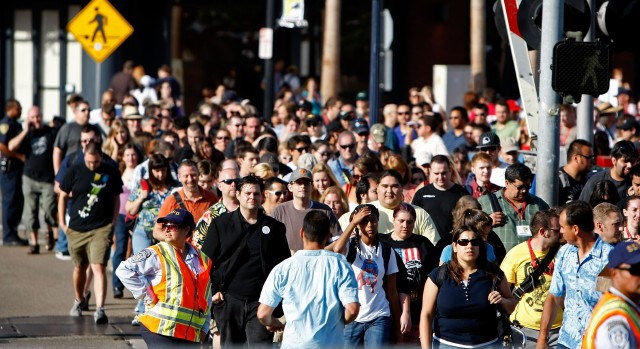 A seasoned Comic-Con friend just put this in front of us: the Comic-Con iPhone App. Couldn't be more timely, of course. Not just because Comic-Con has officially opened. But apps centered around events we applaud. Helpful.
The whats/hows/and-so-forths: The app has maps of the halls -- oh joy and glorious days! -- plus schedules. If you've ever pored over a day-by-day Comic-Con schedule, you know the names and places and topics and giveaways can start to do a merry little conga line in your head.
But the two most important bits here, in our view. It's small, portable, it's already on a device you're carrying. When you have bags of stuff -- and everyone at Comic-Con has bags of stuff -- this is handy. Just make sure you can see your screen if you're wearing a full head-mask.
Second thing: the news feed. While we're fans of the nearly iconic Comic-Con program -- who doesn't love seeing that baby in the mail? -- we realize that it can't always address events that went down at the Masquerade in a lickety-split manner. The news feed can. Again we say: helpful.
Slash Film is hoping for a social component down the road, but all in all the app seems like a nifty add for '09. Oh, and one more word typed three times: free free free.
Copyright FREEL - NBC Local Media