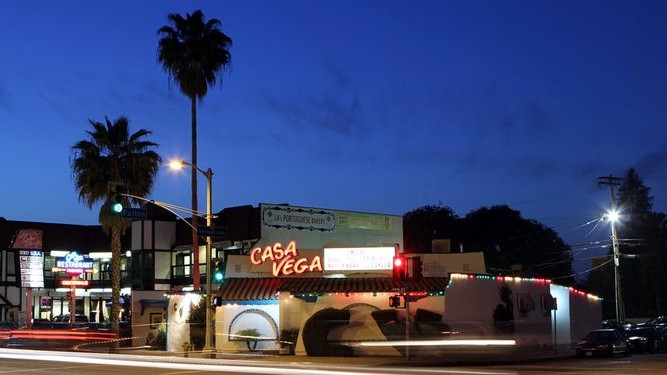 How do you feel when your longtime hangout, a place where you've ordered the same side dish 567 times, adds a few new things?
Happy, right? We love the old-timey places to stay the same and yet we understand that a little tweak and a small addition here and there, while keep the classic menu in place, can only serve a long-standing well.
"Long-standing" and Casa Vega are two things that go together in many minds. The Ventura Boulevard restaurant opened in 1956, and its curves and neon still look quintessentially mid-century. Fans love it for its darkness and booths and salt-lined libations, but those same fans are being treated to a few new things.
Like? New Cucumber Margaritas and Orange Margaritas, and a fresh sangria. A new appetizer -- the Supreme Vega Combo -- is being added to the menu as well, which is a fine idea; it gathers a lot of the apps crowds usually want to order into one dish. (That's one of our favorite things about the Valley landmark; it appeals to small groups of friends looking to margarita-up a Sunday afternoon.) Taquitos and quesadillas are part of the Supreme Vega Combo.
And the traditional Molcajete, too, is on the menu -- think of elements like sliced flank steak and roasted chiles.
It's "the first time in years" that new items have been added to the restaurant's classic menu, says a rep.
So what's your Casa Vega go-to? We will say now, and forever, that Queso Fundido has a way of bolstering the spirit. A margarita on the rocks can enhance a fine Fundido, too.
And we'll raise our Fundido to a Valley institution that's keeping fresh, and keeping neon-nice, over a half century on.
Follow NBCLA for the latest LA news, events and entertainment: iPhone/iPad App | Facebook; | Twitter; | Google+; | Instagram; | RSS; | Text Alerts | Email Alerts
Copyright FREEL - NBC Local Media