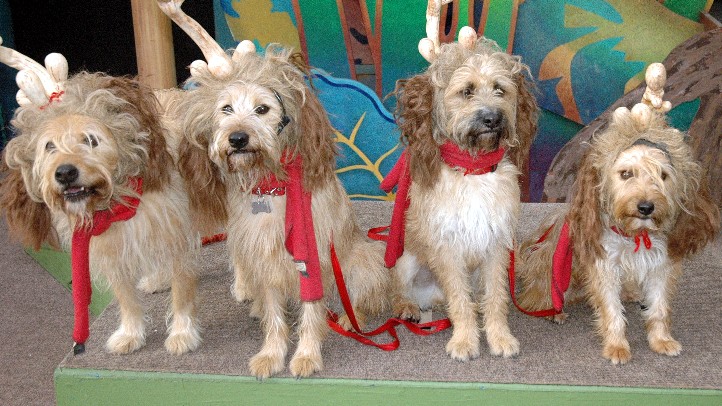 What's your favorite Max moment in "Dr. Seuss' How the Grinch Stole Christmas"?
We waver. We like the scene where the Grinch ties the single antler onto the wee dog's head (the shot of Max sinking to the floor is priceless). We like Max's little smiles and enthusiasms, especially when he boards the Grinch's sleigh for the first time.
But we really like it when Max is treated well by the Grinch at the close of the tale. Finally, redemption and love. If this part touches you, too, and you love dogs, and you're planning on hitting Grinchmas, Universal's annual holiday celebration, you should know that there is a Max-themed adoption fair on Saturday, Dec. 10 and Sunday, Dec. 11.
Shelter dogs have famously starred as Max in Grinchmas for a few years now, and to celebrate that fact, the theme park will feature several shelter pups needing homes. The long and the short of it is get out the Grinchmas, have a good time, meet a few dogs, and if you connect with one, he or she can go home with you at the close of the day. (The Universal kennels will gladly watch over your pooch for the duration of the day.)
Oh, and if you don't want to attend Grinchmas that day? The Have a Heart Dog Adoption Fair is actually happening right outside the gates.
Grinchmas opens, as mentioned, on Dec. 10. It'll also grinch things up on Dec. 11, and daily starting on Dec. 17. The snow and the Whos and the high jinks wrap on Jan. 1. But if you take a little Maxly mutt home with you on Dec. 10 or 11, figure you'll have a little good Grinchiness in your heart well after New Year's Day.
Follow NBCLA for the latest LA news, events and entertainment: Twitter: @NBCLA // Facebook: NBCLA
Copyright FREEL - NBC Local Media