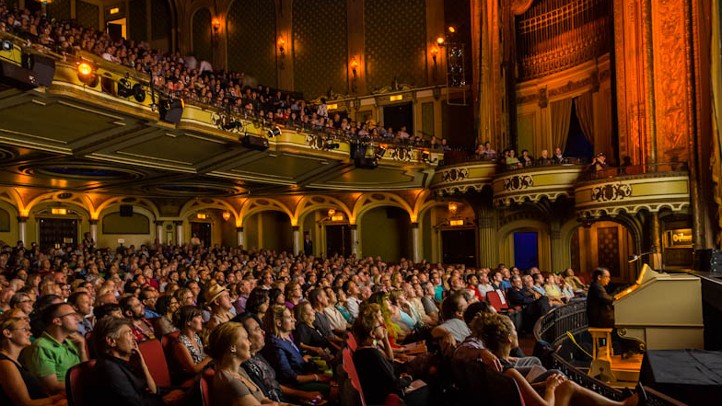 One of the great things about the LA Conservancy is how they regularly put what they do -- the care and keeping and oftentimes saving of our architectural legacy -- into the public's hands, for our enjoyment.
Example A? The organization's annual holiday screening. It's always in one of classic movie palaces, meaning we get to enjoy a film and the beautiful setting the film is being shown in. It brings home the group's efforts, and all groups working to keep LA's past in all our presents.
This year the film is "A Christmas Story" -- did you just think of the sexy leg lamp? We did -- and the date is Sunday, Dec. 2. And the theater? Get ready to sigh: The Orpheum.
Oh, Orpheum. There aren't enough pages on the internet to sing your glorious praises. You are always looking good, and you've weathered the caprices of time and the tearing down of treasures very well. Thanks, in large part, to the efforts of dedicated organizations like the LA Conservancy.
It's also fun to go out on a December Sunday to see a Christmas classic. Get a little dressed up, do lunch, and watch Ralphie and his family enjoy vintage high jinks. Yep, now we're thinking of tongues-stuck-to-icy-poles. And the department store Santa scene, too. It's hard to believe that "A Christmas Story" turns 30 next year, and yet, it will.
A pre-movie Warner Bros. cartoon and Wurlitzer music is on the bill. Very retro, LA Conservancy. Very retro indeed. Feeling the holiday spirit.
Copyright FREEL - NBC Local Media