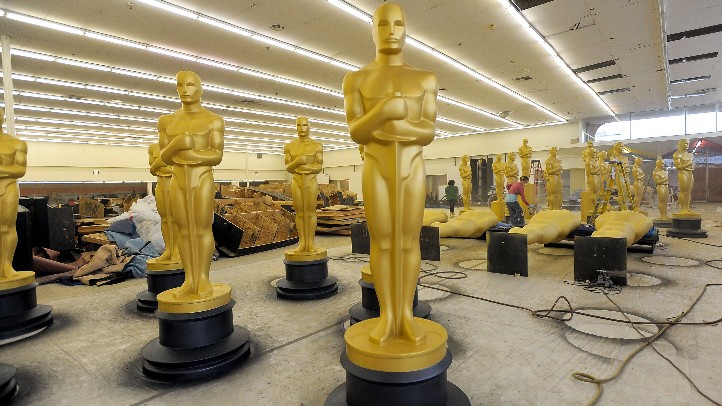 When we heard the major news that the Academy of Motion Picture Arts and Sciences intends to open a new movie-focused cultural institution in the former May Company building at Wilshire and Fairfax, our head zoomed.
First thought: the big gold tube. You know the one. The giant golden feature on the southwest corner of the landmark department store. Is it not fitting that the organization behind Oscar will set up partial camp there? Gold on gold. Glittery.
Second thought: Many movie stars shopped the May Company back in the middle of the last century. How perfect is it that those stars will be featured in exhibits in the very place they bought their hats and gloves? Yeah. We're tickled. We admit.
Third thought: LACMA. We love this particular mash-up. It's epic, is the thing. The Los Angeles County Museum of Art is partnering with the Academy on this initiative, seeing as how the building is part of the LACMA campus. It's officially called LACMA West, but then you surely know that.
The Academy Board of Directors made the call on Tuesday, Oct. 4. The Academy will lease LACMA West, says a release, "while benefiting from LACMA's experience in managing a premier art institution." Working together and all that. Nice.
No official dates on predicted openings were released, but fundraising will soon get underway. And if the photo of the Oscars is making you think the new institution'll be all Oscar all the time, count on both permanent and rotating exhibits that cover a wide spectrum of cinephileana. Surely the famous gold statue will make cameos, but the new institution will be devoted to all things movies.
Exciting, and, yes, epic. More museum goodness on the Miracle Mile, a stretch famous for its ties to tar, cars, shopping, art, and now film. And figure that the Academy, being headquartered a scooch down Wilshire, doesn't have far to drive or bus all that far between the two. They'll just need to head for the May Company's tall, gold column, a look the Academians know well.
Follow NBCLA for the latest LA news, events and entertainment: Twitter: @NBCLA // Facebook: NBCLA
Copyright FREEL - NBC Local Media