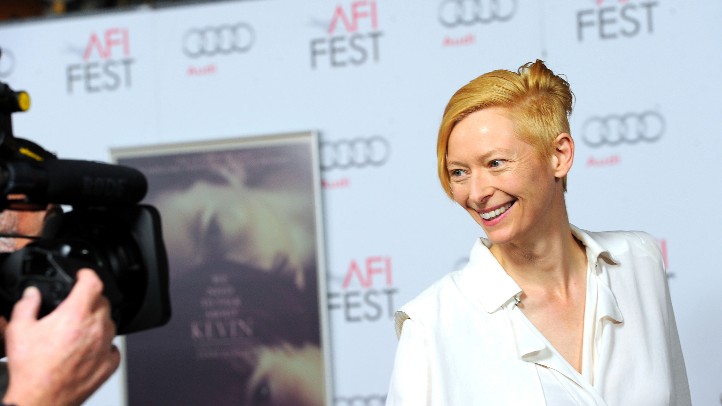 Early November is a funny time for the movie business.
Though let's be honest; fill-in-the-blank-with-any-month is a funny time for the movie business. Even people who are paid to predict what kind of films will do well sometimes are wronger than right (props to them; we're not sure we'd have any solid predictions to make).
But early November? The horror films are wrapping up, thanks to Halloween being over, and the holiday films haven't quite begun, or at least in earnest.
It's a grand time to throw a Hollywood film festival, in short, and that's just what the American Film Institute will be doing again. The AFI announced this year's dates for its annual AFI FEST 2012 presented by AUDI: November 1 through 8.
Big stars turn out (see Ms. Tilda Swinton pictured above). Buzzy films get the love ("The Artist" played in the Chinese Theatre last fall). And the public?
Oh, the public. We're the biggest winners. Because this cineparty is, in the words of the AFI, "the only festival of its stature free to the public."
Yep. Free movies in fancy Hollywood theaters. Free movies that the cast and creators might be speaking at. Free movies! Right before the holidays, when we need to watch corners the most.
Thank you, AFI and Audi. We'll see you the first week of November.
Follow NBCLA for the latest LA news, events and entertainment: Twitter: @NBCLA // Facebook: NBCLA
Copyright FREEL - NBC Local Media