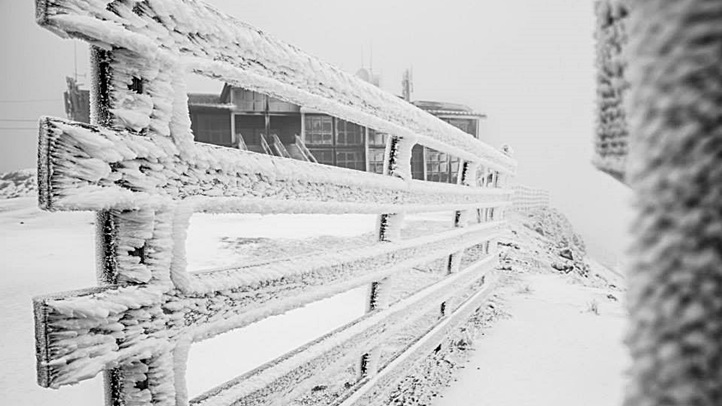 WE NEED A RHYME... for this one. What's the ol' kid favorite, the one that goes "April showers bring May flowers...?" Yep, you know this classroom-common chestnut by heart. It's a classic, but it is time for an autumn update that pertains to those surprise heat waves that arrive in October. Perhaps the rhyme could go "if temperatures are three-digit, start to fidget, when autumn has arrived?" No doubt about it, our rhyming skills need some polish. But the truth is on the weather pages this week: Some Southern California cities will pass 100 degrees over the first weekend in October, a weekend where we should be cuddled in cardigans and scarves. (Okay, this is SoCal, so maybe the first weekend in October is when we dig the heavier board shorts out of the bottom drawer, and a long-sleeved tee.) Whether you're a fan of toasty temperatures or not, seeing the mercury rise in autumn can set you dreaming of frost and fog. But you don't have to dream too hard; parts of the Sierra received its first "dusting" of snow over the last weekend in September.
"DUSTING"... is the word the Mammoth Mountain people used to describe the chilly event, but it is a pretty substantial dust, piling upon fences and gondolas and lifts and the places that'll see flocks of skiers in just over a month's time. Will the fall flakes have melted by the time Southern California is melting in 90-to-100-degree weather? Perhaps, but you can turn up your AC or fans and start packing your sweater suitcase now. As for that spankin' new Cali4nia Pass, which covers June Mountain, Mammoth Mountain, Big Bear, and Snow Summit? It's now on sale, but the sale time? It's as limited as an early fall snow (or, fingers crossed, an October heat wave).
ALSO... it has to be said: We could all do with some April showers right about now, or at least temps in the typical range. C'mon, weather. Let's do this.
Copyright FREEL - NBC Local Media