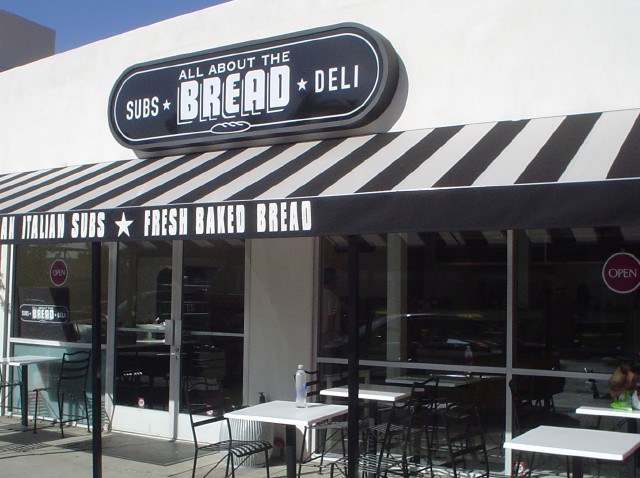 A solid sandwich shop cannot be overrated.
We're talking subs on the upscale side, with tender pastrami and turkey. Vege-packed side salads galore. And quality Hawaiian Kettle-Style potato chips.
And bread, really good, chewy on the inside, not out, bread. All About the Bread, a new sandwichery on Melrose near La Brea, is indeed all about the bread, and the Godfather, and pastrami shipped in from the east coast, and vegan mayo, and interesting sodas, including Coca Cola from Holland.
Owner Albert Mizrahi opened coffee- and tea-focused Larchmont Bungalow, and he saw the need for a New York-y, black-and-white sandwich shop in the Melrose neck of the woods. Old-school subway tiles on the floor and silhouettes on the walls lend to that feel, as do the classic bread-and-meat specialties.
The pastrami was meltable-in-mouthable. The tuna, yielding and supple, like tuna should be. The restaurant, which debuted in early November, is only open daytime hours now -- 11AM-7PM, seven days a week -- but it may eventually stay open later.
A good Saturday: a loaded-up, oh-so-classic Godfather, a soda, and an hour spent at Golden Apple Comics, just a block to the east.
All About the Bread is at 7111 Melrose Avenue. Phone's 323-930-8989
Copyright FREEL - NBC Local Media