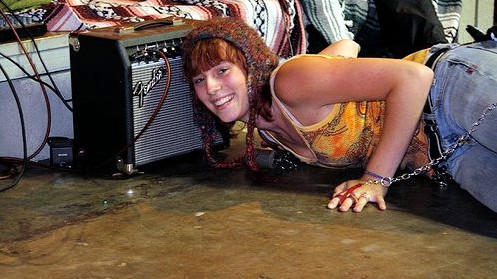 Art walks frequently incorporate an aural element, from DJs stationed at the front of galleries to instrument-wielding trios playing classical selections out on the sidewalk.
But less common -- far less common, in fact -- is the art walk built principally around sound. Picture the tropes of art-oriented evening walk, where you stroll from one business to another over a few city blocks. Now visualize yourself stopping to listen to someone creating sound effects through found objects, or an artist coaxing a virtual rainbow of feedbacky fuzzes from a vintage, '70s-era soundboard.
SoundWalk, the annual Long Beach listen-about, is back for another year on Saturday, Sept. 1. Strollers can expect several stations emitting interesting tunes and blips and loops (one we like from years past is the loop an ice-cream-loving artist created as an homage to the Coolhaus ice cream truck; hear it here).
The night isn't solely about sound, of course; some of the costumes and performances and visual elements enhance what's going in the ear in a truly wonderful way. But let's call sound the star of the evening.
SoundWalk is free and presented by arts collective FLOOD. Head for the East Village Arts District around 6 p.m. and ready yourself for four hours of allowing interesting aural installations and experiences to wash over you.
A look back at last year:
Follow NBCLA for the latest LA news, events and entertainment: iPhone/iPad App | Facebook; | Twitter; | Google+; | Instagram; | RSS; | Text Alerts | Email Alerts
Copyright FREEL - NBC Local Media