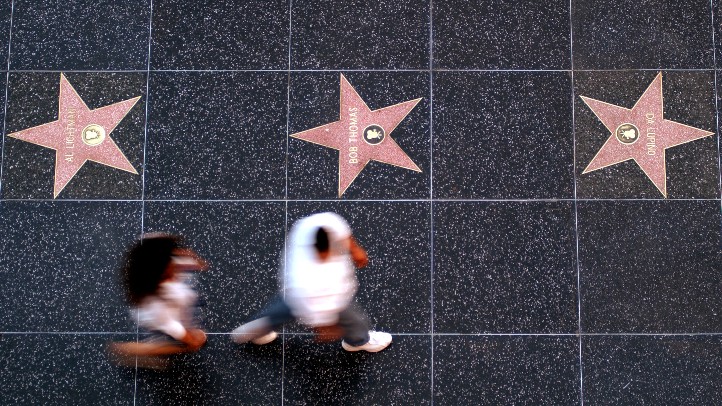 Hollywood is all about long-standing traditions, so when one is changed up it is worth noting.
And that change-up happened on Friday, June 22 when the Hollywood Chamber of Commerce announced, via a live press conference, the 2013 Walk of Fame honorees. Or, in other words, those stars of film, television, radio, stage and the recording arts who will receive the coveted sidewalk stars.
Actress Marg Helgenberger did the announcing honors.
On the movies list? Viola Davis, Javier Bardem, Helen Mirren, Ron Howard, and James Franco will all receive stars in the months ahead. We know, Walk of Fame enthusiasts; Mr. Howard does indeed have a star, for his television work. This will give him another, for the film side.
The most interesting honorees? Luther Vandross and Janis Joplin, who will receive posthumous stars.
And a quick glance at the remaining categories offers a fascinating who's who: Penn & Teller'll get a sidewalk commemoration (we're wondering, at their ceremony, if they'll make it disappear). Ellen DeGeneres and Matthew Perry are getting stars on the TV side (Mr. Perry's "Friends" co-star Jennifer Aniston was just on the boulevard receiving a motion picture star). Ohhh, and look: Backstreet Boys and New Kids in the Block will get the big honors. Cheering fans, prepare.
All told there are a couple of dozen people getting the good news today (well, make that more with the music groups) but here's a factoid you probably know but bears repeating: The Chamber of Commerce receives "hundreds of nominations" for the select pavement spots.
The announcements were made at the Oscar Room inside the Hollywood Roosevelt Hotel. Here's the full list of 2013 honorees.
Follow NBCLA for the latest LA news, events and entertainment: iPhone/iPad App | Facebook; | Twitter; | Google+; | Instagram; | RSS; | Text Alerts | Email Alerts
Copyright FREEL - NBC Local Media