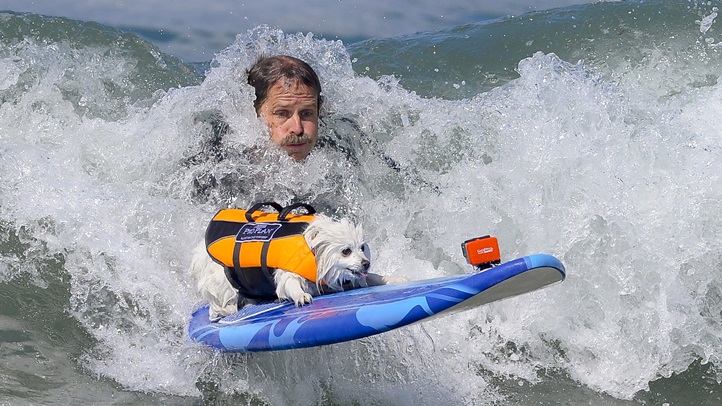 AGILITY COURSE OBSESSION: You don't ever need to inquire if the person who has been sitting in front of a computer, for hours on end, watching video after video of top-notch tail-waggers master agility courses, wants to watch just one more video. They want to watch lots more videos. They want to watch all the dogs who've ever competed in an agility course, ever, since the invention of agility courses (dogs arrived rather earlier on the timeline). But seeing a fast-on-her-feet pooch take on a row of straight-arrow weave poles, one after the other, on video, and seeing that live and in person are two different matters entirely. Absolutely, a weave pole run is thrilling whether it is on film or feet away, but every Fidoist should sit in the same space as an agility course at some point. And so you can, if you're in the vicinity of Huntington Beach on Friday, May 29 and Saturday, May 30. That's when the Purina Pro Plan Incredible Dog Challenge Western Regional Event dashes into town, bringing with it a host of skilled barkers ready to take on jumps, tunnels, and more.
THE "MORE" INCLUDES SURFING... oh yes it most certainly does, and "high-flying disc routines," too. Dog Diving is described as a crowd-pleaser and it is just what it sounds like -- dogs take big, big jumps into big, big water, probably much like they do at the lake or into the backyard pool. Which way to look, is the question? You'll have time to decide, given the two-day spread. And if you think your own furry one has the stuff that judges are searching for, check it out: "Local dogs also have the opportunity to compete in the Challenge, with a qualifying round on Friday, May 29 for the Dog Diving, Fetch It, and Freestyle Flying disc competitions."
THE AGILITY ACTION... by the by are defined as including both large and small dogs, so look for the full spectrum of floppy-eared, eager-to-hit-the-ground-running competitors. And Jack Russell fans should take special note: Jack Russel hurdle racing is a huge part of the Incredible Dog Challenge.
Copyright FREEL - NBC Local Media