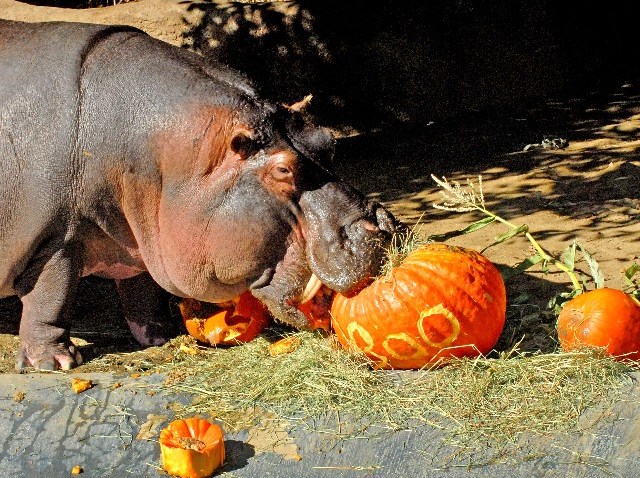 It's a rare day where we can actually physically enter a hot video meme that is making the rounds.
Well, the question is would we want to enter the hot video meme, first of all; probably not, most of the time. But when it comes to big animals gnawing at big pumpkins -- which is apparently this week's online video du jour -- most of us would probably jump at the chance to see all the pulp flying in person. From a safe distance, of course.
Because that tiger? Chomp chomp? Delicious seedy goodness all over? Yeah. That is pretty darn adorbs, as the tiger cubs say nowadays.
The Los Angeles Zoo will have a lot of pumpkin-eating going down on Saturday, Oct. 30 and Sunday, Oct. 31. It's Boo at the Zoo weekend, and there's a whole "Stomp 'n Chomp" element to the program. Which zoo residents will get a crack at going gourmet on the gourds? Hippos. Otters. Red River Hogs, and Black Bears, too. Plus other animals. Note that each animal has his or her own pumpkin time slot during the weekend, so you'll want to plan ahead if you have a favorite beastie.
But the gnawing on orange globes is only the half of it. As with past Boos, the weekend's events will cover performance, puppets, music, the meeting of creepy creatures like spiders, and other kidly holiday faves. You can see all of this with zoo admission; get more info on times and pumpkin-eaters.
Copyright FREEL - NBC Local Media