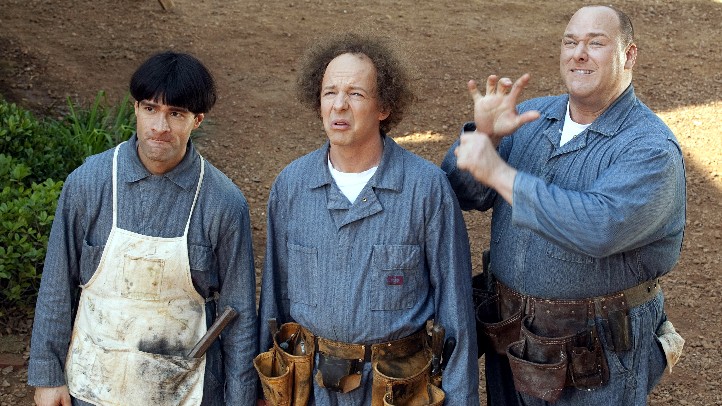 The Three Stooges? Perennially popular, we hear. Oh, we're only nyuk-nyuking you; of course the vaudeville-merry trio is popular. Did you see this recently discovered bit of film a few weeks back? It got a ton of online hits after its existence was confirmed.
And the annual Three Stooges Thanksgiving Weekend event at the Alex Theatre? Fans'll be lining up for that one, Moe wigs on, for years to come.
So planning a full-on Stoogean day 'round these parts makes sense, especially if that day happens to be April 1. Six Flags Magic Mountain has, in fact, rechristened April Fools Day as April Stooge Day this year, meaning that on Sunday, April 1 there will be hordes of happy Larrys, Moes, and Curlys roaming the park,
Yep, there's a new Farrelly brothers movie all about the trio, so bet you'll see plenty of word on that around the park, too.
Now, here's the upshot for people in costume. Be one of the first 500 -- that's right, 500 -- people dressed like one of the Three Stooges to arrive at Six Flags on April 1 and get in early. Contests, prizes, and other nyuk-nyukery will rule the pranky holiday.
Oh, and you didn't see the film we referred to yet? Here it is, once more.
Follow NBCLA for the latest LA news, events and entertainment: Twitter: @NBCLA // Facebook: NBCLA
Copyright FREEL - NBC Local Media