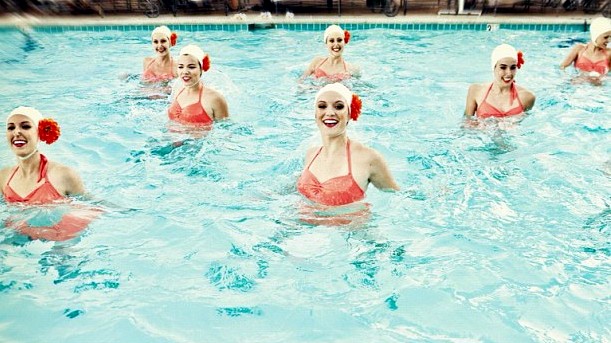 Since we don't have too many of the usual signs of autumn's approach 'round these parts -- the falling of maple leaves and such -- we have to turn to more local traditions to tell us that summer is near its end.
And when a certain sparkly synchronized swim troupe wraps up its splashy run at a certain splashy hotel, it is time to pull out the proverbial scarves. The Aqualillies, those swim-capped stars of swank pools around Los Angeles, will perform at the final Summer Poolside Soiree at the Beverly Hills Hotel on Friday, Aug. 24.
The summertime series, sponsored by Cointreau and held in honor of the hotel's centennial, is raising funds for Project Angel Food. Admission is free but cocktails and menu items are for sale.
It's an early evening, running from 6 to 8 p.m., meaning you can admire the Aqualillies' vintage-movie-style smiles and precision pool moves and move onto your next event by sundown. Plus, after the Olympics? Weren't you keen on seeing some synchronized moves in person? It's impressive on television and while seated on a pool deck, too.
If you can't make the final Beverly Hills soiree of the summer, take heart, pool lovers; the Aqualillies will teaching at the Annenberg Community Beach House into the middle of September. That's one way to delay summer's exit; synchronized swimming classes next to the ocean. Be sure to brag to your friends living elsewhere about that one.
Follow NBCLA for the latest LA news, events and entertainment: iPhone/iPad App | Facebook; | Twitter; | Google+; | Instagram; | RSS; | Text Alerts | Email Alerts
Copyright FREEL - NBC Local Media