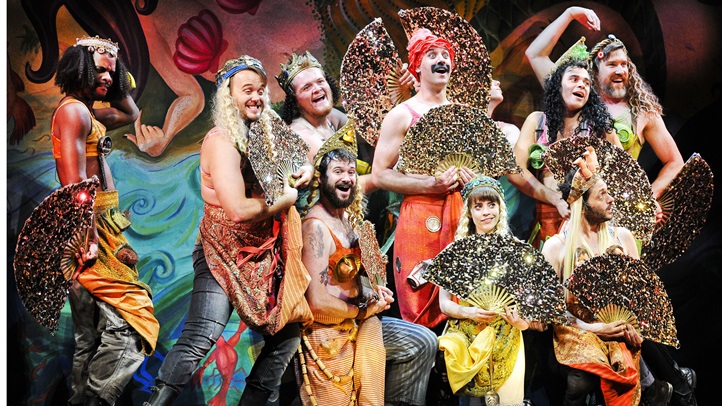 Ahoy, September 18: It's hard to believe that "Talk Like a Pirate Day" has now been marked, at various points around the globe, for over a decade now, but, arrrr, this be true: People do love it. Thank the mega pirate movies or thank the joy one feels when donning a big-sleeved shirt and tri-cornered hat, but September 18 is the one day of the year you're most likely to say "avast" in some sort of semi-serious fashion. So, you've got your breeches and your salty boots; now where shall you celebrate? Here are a few spots to meet mateys, on Sept. 18 and beyond.
"Peter and the Starcatcher": This whimsical heart-tugger of a Tony favorite sails into The Ahmanson on Dec. 3, but should you want 50% off a ticket -- and you do, don't you -- best purchase it on Sept. 18. You'll need to call 213-972-4444 and, yes, do your best pirate on the phone, or buy the ticket by using this special code: ARGH. Yes. You're buying a ticket to The Ahmanson with ARGH as your code. Life is amazing.
The Northern California Renaissance Faire: True, the looks at this Hollister-close merriment are far more high Renaissance than high seas, but, yeah, you do occasionally see a character or two who looks a mite pirate-y at a large ren faire. This is the place to rock your 17-century pirate wear, in short. It's on every weekend at Casa de Fruta through Sunday, Oct. 13.
Buccaneer Days: This is one pirate-themed festival that has a totally cinematic, ocean-ready setting: Two Harbors on Catalina Island. Music, socializing, treasure hunts, and other grown-up-y to-dos await (DJs and a Bacardi day are on the schedule). And the dates? Thursday, Oct. 3 through Sunday, Oct. 6.
Pirates of the Caribbean: Yep, the attraction that inspired the movie series and the modern themed pirate just happens to be located in Anaheim, California. What's your favorite part of the Disneyland classic? You totally said that certain scent that Pirates gives off when you first walk inside, right? It cannot be duplicated, nor would we ever want it to be. The best. (The first drop in the dark is really sweet, too, as are the fireflies by Blue Bayou.)
Copyright FREEL - NBC Local Media