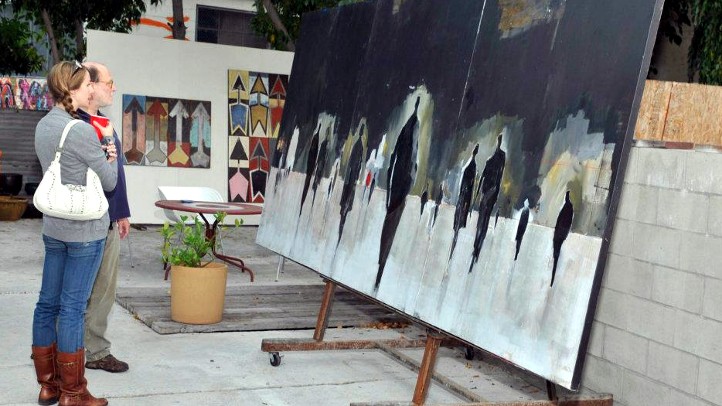 The Los Angeles River continues to get the love and attention from locals eager to see it return to some of its recreational, nature-peaceful ways. Were you able to get on one of the highly in-demand kayak tours? A lot of people certainly wanted to, to the tune of the tours selling out.
But there is a community along our river that celebrates its wilder side daily, and incorporates that beauty in its own spirited doings and artistic expressions. We're talking about Frogtown, which pretty much gets our vote and everyone's vote for the LA neighborhood with The Most Fun Name (don't be jealous, Miracle Mile; you have a pretty good moniker, too).
Frogtown, which is nestled in the Elysian Valley in the Edendale/Echo Park/Mt. Washington nexus, not only sports a memorable handle but one of the area's best annual artwalks. And it's on again, on Saturday, Sept. 22.
What will a visitor to Le Ville de Grenouille see? Painters and sculptors and musicians who call the funky area home and the work they create. (We know, we know, "funky" has been oversold as a label in these modern times, but we do believe this area can still rightly lay claim to the term.) You're apt to see people out grilling food for sale, too, and art activities for the younger Frogtown set.
Mostly we like a Frogtown sojourn because it is a pretty peaceful, nonconformist spot, up against the river, in the middle of a city that has more go-go-go than it sometimes knows what to do with. A free artwalk is a gentle reminder of community and nature, which city dwellers always need a heaping dose of, from time to time.
Follow NBCLA for the latest LA news, events and entertainment: iPhone/iPad App | Facebook; | Twitter; | Google+; | Instagram; | RSS; | Text Alerts | Email Alerts
Copyright FREEL - NBC Local Media