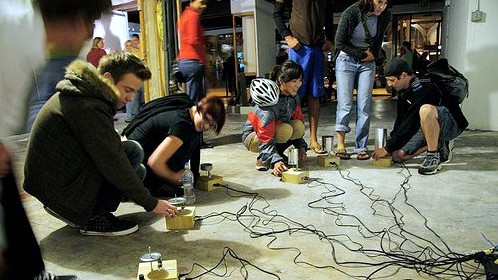 The beautiful and mysterious auditory experience? It's often part of any solid art night. You look at a painting and you hear a three-piece combo in the background. You eye a sculpture and a musician plays sax in the gallery's corner.
But what of the art night that's solely about sound? That's Soundwalk, in a nutshell (nutshells may very well be part of the evening, but we'll get to that in a moment). Soundwalk, which is dinging and ringing and humming in Long Beach on Saturday, Oct. 1, puts the focus on the ear. But let's call it the active ear. Rather than consuming music or noise or anything that can be heard passively, viewers -- or hearers, rather -- are engaged.
And how. Participants will stroll and savor "a five-hour audioscopic experience." That means that artists could be playing a host of invented, never-seen-before instruments. They could be singing, or standing in silence. They might be playing a guitar, but the back of a guitar.
It's free, it's on from 5 to 10 p.m., and it is in the 4th Street, Linden Avenue, 1st Street, and Elm Avenue nexus, say organizers. Just park and perk up those ears. You've got over 30 artists to encounter, and probably an uncountable number of thweaks and burps and strums and ting-a-lings. Nutshells could be crushed for your ear's enjoyment. We'd like to hear a symphony built around nutshells. Soundwalk? Can you help us there? We believe you can.
Come to SoundWalk 2011, Oct 1st, Long Beach, Ca from SoundWalk on Vimeo.
Copyright FREEL - NBC Local Media