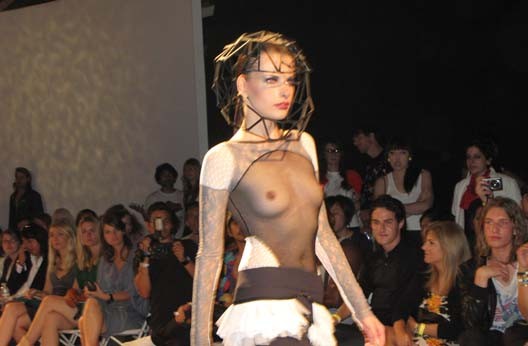 The sexy streetwear was looking more couture than clubrat at the Brian Lichtenberg show on Friday. The ultra sheer pieces, constructed of lace, silk, and tulle followed a clean color palette of white, black, metallic and purple. We appreciated the tightly edited show, made even quicker by the racing speed models walked the catwalk.
Within the limited number of menswear looks, we had to wonder how one model even squeezed into a pair of deathly skinny jeans—and he was really skinny. Purple vinyl pants also made an impression with what looked like pocket flaps at the knees. And who would wear these? We spotted some men in the audience rocking leggings (which we liked) who looked like potential customers. Lichtenberg was also one of the many designers making full use of headpieces, his take being staked, geometric shapes resembling crowns and cages.
The women's collection left little to the imagination—lacy tops with geometric insets, full-on bodysuits, a sheer dress with strategically-places triangles barely covering bust and nether regions, ultra-mini skirts with exposed back zip, and spray-on tight glossy vinyl pants. And with most of the tops having wide armholes plunging lower than the neckline, it's safe to say Lichtenberg is doing his part to make side boob the new cleavage.
· LA Fashion Week [Racked Archives]
For more stories from Racked LA, go to la.racked.com.
Copyright RACKL