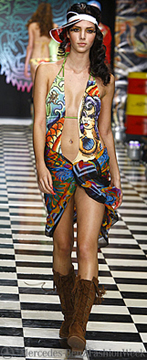 On the catwalk Monday; in the Beverly Center windows in July
Well, you can't say that Christian Audigier, king of embellishment, isn't consistent. The JC Report was at his Ed Hardy show yesterday and has this to say: "Christian Audigier's Ed Hardy show proved that somewhere out there, the market for trucker hats, tattoo-print sweats and glitter-encrusted jeans is still going strong—even if they'll be churned out in a luminous neon color palette next season." And, wait a minute, the same bright, plunging swimsuit that just hit the catwalk was in the window at The Beverly Center back in July! The only difference a neon green strap swapped for a gray one.
· LA Fashion Week: Treading Water [JC Report]
· LA Fashion Week [Racked Archives]For more stories from Racked LA, go to la.racked.com.
Copyright RACKL