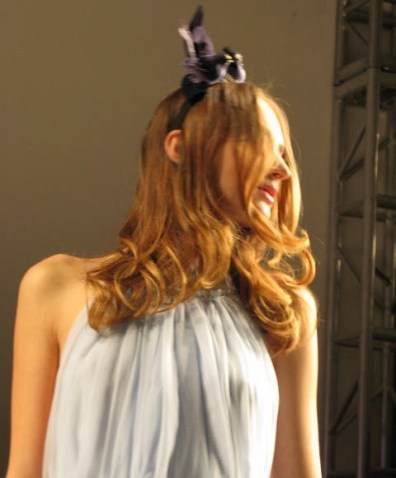 We had to get past the bird-themed styling at Amelia Toro—headpieces with birdies and butterflies, models swinging birdcages down the runway, chirping music—to see the clothes, but once we did, a selection of dresses were standouts here: airy layered dresses tied at the shoulders in a palette of pinks or purples, sweet and luxe baby doll dresses with delicate ruffles at the hem, and a lovely chiffon cocktail dress in the palest blue with a skinny sash of black at the waist.
The designer's Latin roots (Toro was born in Columbia) came through most strongly in a pair of long dresses with appliqué and ruffles, and we could see her experience of stately dressing (from the First Lady of Columbia and the Ambassador of Spain to Kim Basinger in LA Confidential and Katie Couric) in the quality of construction throughout.
We also have to mention the jacket and matching handbag currently on the homepage of Toro's site (also after the jump)—the lime and black geometric print, the wood handle, we love.
· LA Fashion Week [Racked Archives]
For more stories from Racked LA, go to la.racked.com.
Copyright RACKL