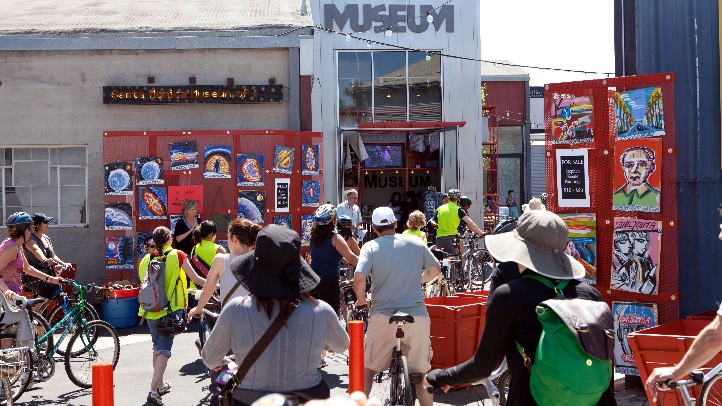 Remember when you were back in grade school and physical education was one distinct class and your Arts 101 was another? And never that particular twain should meet?
That was fine, but as we've all learned in adulthood, sometimes the unusual mash-up can be a little magical. Why, after all, should the visual arts be separate from getting a bit of exercise? After all, painters and sculptors throughout time have depicted people enjoying sport. (Case in point: #MuseumOlympics.)
Tour da Arts is one of SoCal's liveliest get fit/get culture mash-ups. Presented by the Santa Monica Museum of Art, the annual bike ride puts the emphasis on leisurely pedaling and cultural enjoyment. It's slated to roll again, on its Vol. 4 outing, on Sunday, Aug. 19.
What happens, besides you strapping on the helmet and making for SMMoA? A number of stops will be set up around the city, at places such as the Santa Monica Bay Woman's Club and John Adams Middle School, where puppet shows and musical performances will take place. So, the upshot is this: cycle cycle cycle, stop and see something interesting and lively for your brain, cycle cycle cycle, repeat.
It's kind of the perfect bike ride, and has a lot in common with its soul cycle sister, CicLAvia: community and culture and a mix of interesting things built around exercise and fresh air. Because while P.E. and art were separate courses when we were young, they're not totally separate in life.
You'll need to register first but the ride and all the events? Totally free. (Update: The lovely SMMoA tells us there is a five-buck fee for non-members for the Art Reflector Workshop. Good? Good.)
The ride starts at noon on Aug. 19, and "hundreds of riders" are expected, so suit up early, culture lover. And kids? Totally welcome, of course, but the little ones'll need to be in "tag-alongs" or similar, so get the details.
Follow NBCLA for the latest LA news, events and entertainment: iPhone/iPad App | Facebook; | Twitter; | Google+; | Instagram; | RSS; | Text Alerts | Email Alerts
Copyright FREEL - NBC Local Media