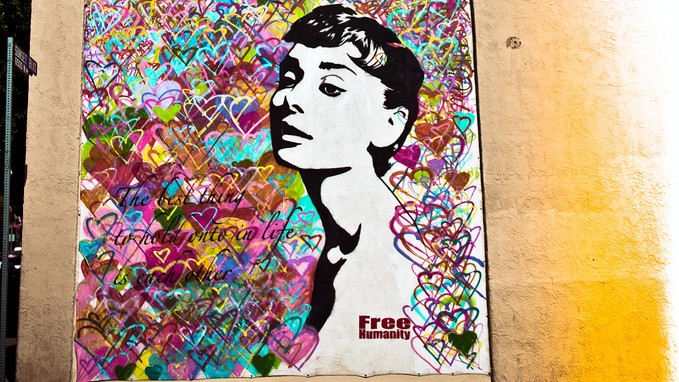 Tinseltown has seen its share of star-laden murals and street art. The famous "You Are a Star" mural on Wilcox Avenue? You've likely seen it in person, or, if not, on countless postcards and in several guidebooks over the year.
There's a new actress-oriented bit of art in Hollywood to admire. It's a mural depicting Audrey Hepburn and loads of hearts, as well as an inspiring quote by the famous humanitarian: "The best thing to hold onto in life is each other."
Free Humanity, the artist behind the large-scale piece, was commissioned by Ajay Jhaveri of Argentum Photo Lab. The mural, which debuted a week ago, can be found on the lab's exterior wall at Sunset Boulevard* and Seward Avenue.
Argentum has a long history in creating actors' headshots, so the fact that one of our most famous stars is now on its Hollywood building fits.
And if you need more Hepburn in Hollywood? There's Cafe Audrey on Las Palmas, which features photos of the "Breakfast at Tiffany's" star. Could the mural and the cafe now serve as a mini Tinseltown tour for Audrey aficionados visiting town? Perhaps a swing by the Paramount backlot, too, for a tour? That served as the place where Holly and George visit the five-and-dime in "Tiffany's," of course.
And because the mural trumpets a nice message we'll type it once more: "The best thing to hold onto in life is each other."
*updated from Hollywood Boulevard
Follow NBCLA for the latest LA news, events and entertainment: iPhone/iPad App | Facebook; | Twitter; | Google+; | Instagram; | RSS; | Text Alerts | Email Alerts
Copyright FREEL - NBC Local Media