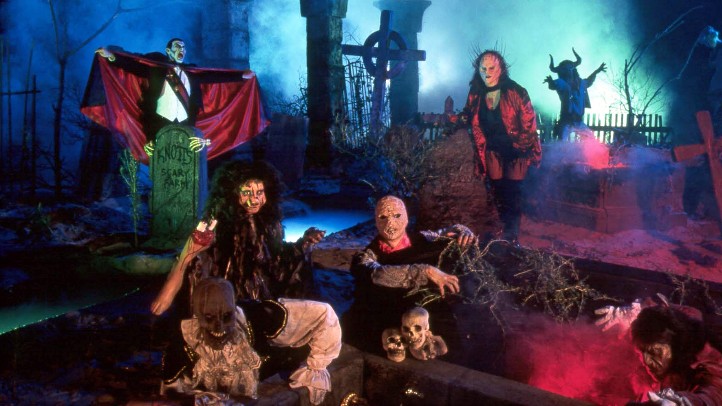 While most people wait for the big bags of miniature candies to start lining their grocery store aisles to even begin thinking about Halloween, we here in Southern California have a different, earlier sign: The week the theme parks start to make their annual monster maze hires.
That week always comes sooner than people think it will, and usually arrives during the hottest stretch of our year, which is a discombobulating (which, in itself, is a pretty scary, Halloween-like word).
Knott's Scary Farm kicked off its Halloween Haunt auditions on Friday, Aug. 3 with a call for re-hires. Wouldn't you love to tell people you're a returning monster to what is considered by many the granddaddy of the park haunts? In fact, we might just put "returning monster" on our LinkedIn page. The open hires are on Monday, Aug. 6 but those have booked up, too.
And Halloween Horror Nights has the call out for "vampire dancers" on Saturday, Aug. 4. Again, that is LinkedIn gold right there. Is there a cooler conversation starter in the world for a resume than vampire dancer? No. There is not.
Whether your plan is to ghoul it up in Buena Park or Universal City, we're counting on you, ghosts and witches, to keep that October spirit of fun alive. We know, October does seem a stretch from early August, but that's how it plays in SoCal; our spookiest season gets the early jump.
Knott's Scary Farm's Halloween Haunt turns 40 this year, by the way; it opens on Friday, Sept. 21. Oh, and look at that: Halloween Horror Nights also opens on Sept. 21. Can it be long before the Halloween hires start in July?
Follow NBCLA for the latest LA news, events and entertainment: iPhone/iPad App | Facebook; | Twitter; | Google+; | Instagram; | RSS; | Text Alerts | Email Alerts
Copyright FREEL - NBC Local Media