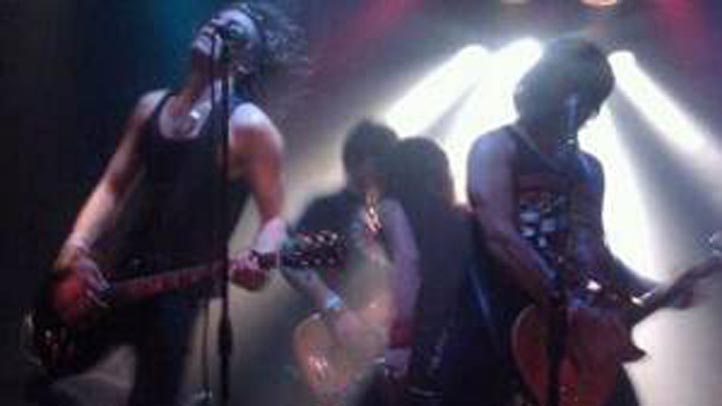 Filling a slot at the Park Bar & Grill in Burbank after a last-minute cancelation seemed like a good idea to Del Rio, lead singer of Australian rock band Sunset Riot.
"It just fit well since we were coming off a few shows in the area," Rio said.
With barely room enough for a handful of tables and a wall-mounted jukebox, the small sports-bar in Burbank is a stark contrast to the Viper Room in Hollywood and legendary Palladino's in Reseda, which is where Rio and the rest of the group recently played.

"We came to America to play Rock 'n' Roll. If it's in front of five or 50,000 people, we give it all every show," he said.

From my vantage at the bar, one would have thought the boys from Sydney were playing to a stadium-size crowd. Rio seemed hell-bent to let everyone inside the club, as well as the occasional pedestrian, know that they have arrived. At one point, he ran outside to sing to an elderly couple on the sidewalk. Even this barfly was fair game. During their performance of "Rattlesnake," I found myself nose to nose with the frontman belting along to his signature wails. Rio's stage presence is mesmerizing, evoking a Eddie Vedder intensity with a Steven Tyler swagger.

Often in LA, musicians are so busy trying to be rock stars, they forget to be a rock group. Not the case for these blokes from down under. Jazz on bass and the Resh on drums kept pace with their singer, encouraging him along. Rythm guitarist Ziggy Scott, who also sings background, and lead guitarist JP also did their part. During "Rain," they climbed onto the bar as if to convey to the patrons that Sunset Riot is destined for a bigger stage and, as they protected their beer mugs, the audience banged their heads in approval.

Sunset Riot is a band worth seeing live and once you get your hands on their latest self-titled EP, you will see they are the real deal. The CD is replete with the kind of riffs and melodic crunch that hit you in the gut while forcing you to sing along. Listening to "Rattlesnake" and "Trash vs Class," one conjures images of Slash and Motley Crue. Indeed, the Scott-JP dual solos rival any hard rock guitar icon. With commercial appeal, "Moonshine" and "New Day" would satisfy any A&R exec while staying authentic to their brand.

With a 75-night tour of the U.S. ahead of them, the Australian rock group Sunset Riot will have an opportunity to show that they are American rock stars.

Jose Hernandez Jr. is a freelance photographer for NBC LA and co-hosts the online radio show "Twin Talk." You can follow him on Twitter via @josejr67.