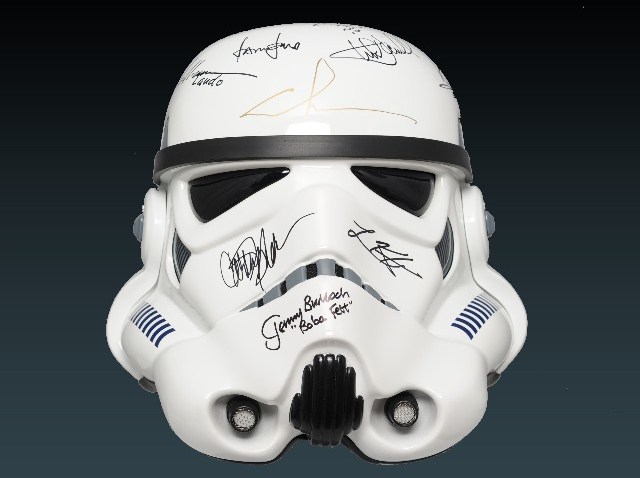 Round up 17 people who've worked on "Star Wars." Strike that. Make them "luminaries," in the parlance of the organizers behind the rounding-up. Nab a Stormtrooper helmet -- you've seen one of those before, right? -- and give all luminaries some thick pen and then have them sign it.
Oh, and it is fun if you put not only your real name on the helmet but your role in the films, too. Is that "Boba Fett" right on the front of the helmet pictured above? Why it certainly is Mr. Fett.
And then take the helmet -- it is a replica, we should note -- and auction it off to help Make-A-Wish.
Even if you're not bidding, you are certainly welcome to pore over this handy picture, and see some of the people who've signed that. Hello, Billy Dee Williams. James Earl Jones and Frank Oz, too.
And if you do end up winning the helmet -- the eFX Collectibles auction opens at noon eastern on Tuesday, Dec. 14 and will run for several days following -- best put it on a pedestal, lit by museum-quality lamps, with the John Williams theme playing nearby 24/7. After you try it on, of course. Who'd bid to get a Stormtrooper helmet and *not* want to run around the neighborhood while wearing it, at least for an hour or so?
Copyright FREEL - NBC Local Media