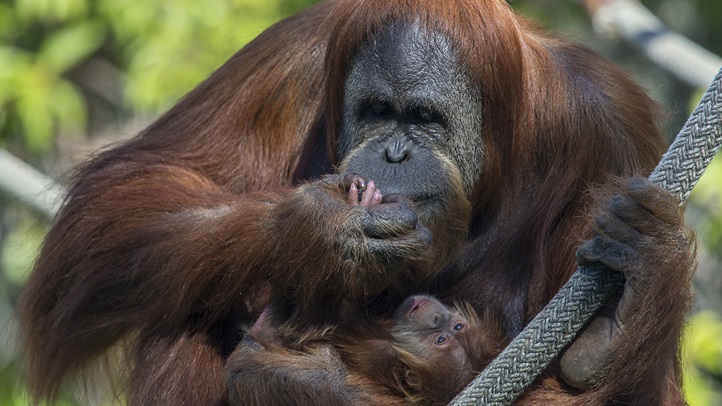 A BIG HELLO: Awaiting a new baby's big debut is a long-standing zoo tradition, but the first hello is very much dependent on the infant's mother. Take Indah, a Sumatran orangutan who calls the San Diego Zoo home. She gave birth to her second baby, a girl, on Oct. 25, but in "her off-exhibit bedroom." The newborn has stayed with her, in private, seen only by zoo staff who are keeping a close watch from a respectful distance. It was up to Indah as to when the baby would make her outside debut, in the orangutans' public exhibit.
THAT DAY TURNED OUT TO BE... Friday, Nov. 8. "The newborn clung to her mother's chest as Indah climbed the ropes, cargo nets, and sway poles in her habitat," all while visitors' cameras click-click-clicked away. The baby should be able to sit "and use her hands in the next few weeks," so staffers and zoo visitors alike will watch for this milestone.
APE CAM: Even if you can't get down to the world-famous animal park, you can take a peek at the wee orangutan, who is all long limbs and tufty red hair at the moment (plus a sweet face that occasionally turns from her mother, but you have to watch). There's an Ape Cam, of course, and check it: There are five orangutans at the zoo, so you just might spy more simians beyond Indah and her baby. (And, yep, the baby's father is there as well, but she'll be solely cared for by her mother.) Four are Sumatran and one resident is a Bornean. And the last fun and lively fact? The zoo has witnessed some 38 orangutan births over the last 85 years.
Copyright FREEL - NBC Local Media