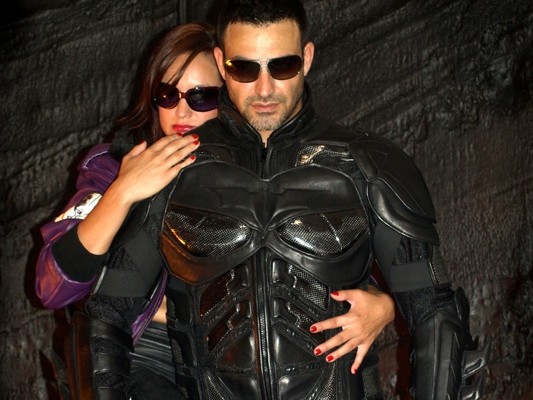 We were just musing about how sometimes an outfit -- or, in the case of "Reno 911!," shorty shorts -- can practically run off with a television show or movie.
Keira Knightley's green dress in "Atonement"? Thinking about it, still. Homina homina, if we might say so ourselves.
And while the muscled-out motorcycle suit from "The Dark Knight" didn't totally steal that movie -- because no one part of the film could steal from any other part, because it was locked-down amazing on every level -- it was a very memorable bit of clothing. And now UD Replicas is making 1000 suits for Batman buffs to purchase and enjoy.
And wear to the grocery store, possibly? We hope.
It's the Batman suit you know from the film. The shiny six-pack abs area, the arm spoilers, the sexy faux codpiece, the curves. We're thinking of the way women just wanted to put their hands on it, and bad guys wanted to put their hands through it, and how Batman just would never ever let 'em get close. Well, not the bad guys, at least.
You can buy the jacket and gloves and pants separately -- the jacket runs $689, if you're wondering -- or you can just slap down your cash for the whole mean machine.
We mentioned the arm spoilers, right? Homina, again.
Copyright FREEL - NBC Local Media