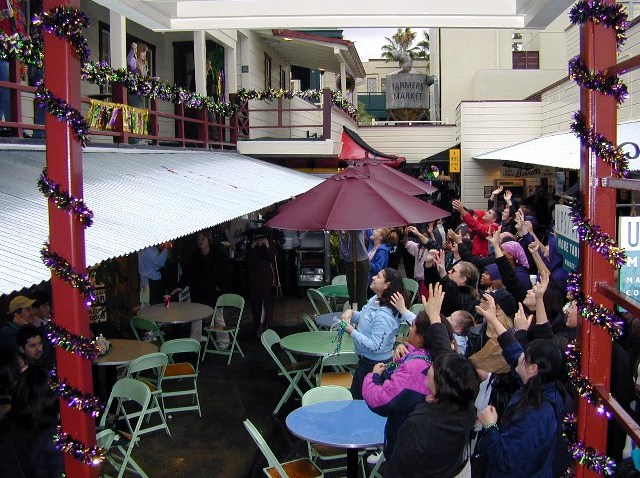 Our favorite part of one of our favorite places? The balcony with the bell. If you've been to Farmers Market at Third & Fairfax, you know the East Patio area we speak of.
Years ago, the balcony bore a sign that read "Eat well and be merrie for tyme is swift." Truer words. But today it serves as a bead-throwing station during the annual Farmers Market Mardi Gras celebrations.
"Celebrations" is indeed plural there. The Third & Fairfax landmark doesn't merely break out the beads and brassy sounds on Fat Tuesday; it gets the party going the weekend before. The 2011 dates are Friday, March 4 through Sunday, March 6, with more bons-temp-ing on Tuesday, March 8.
There will be a Mutti Gras Pet Parade (a beagle in beads in a sight to see). There will be simmer-hot zydeco. And, at the Gumbo Pot, Bourbon Street-style eats. Just make sure you get that beignet-y powdered sugar all over, because dainty dining has no place during live-large Mardi Gras.
Various bands and events have various slots over the weekend and Mardi Gras itself, so check out the schedule. Then practice those bead-catching techniques, skills we all should be boning up on every March.
Oh, and don't forget to eat well and be merrie for tyme is swift. All year long, of course.
Copyright FREEL - NBC Local Media