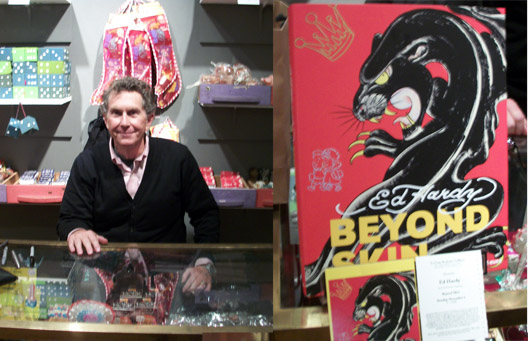 Way back before Christian Audigier got hold of the name and turned it into a synonym for over-the-top, blinged-out machismo (or the punchline to a joke), the name Ed Hardy meant something. The name belonged to…you guessed it, Don Ed Hardy, one of the first "designer" tattoo artists who did a lot to rehabilitate the image of tattoos, way back in the late 1980s.
The San Francisco-based artist was in town over the weekend to promote his new book, Beyond Skin, at Wacko/La Luz de Jesus. And we decided to drop by, just to see who else would show up.
We were surprised by the stream of admirers that trickled in. Not a single one of them wore anything Ed Hardy. That we kinda expected. But what really surprised us was that very few of them even had tattoos.
Ed Hardy, the man, is everything Ed Hardy, the brand, is not. The man is affable and thoughtful, a shrewd historian who's actually a bit on the quiet side. We're guessing he's in his 50s or maybe early 60s, and he is the very picture of avuncular: sporting a thick mop of graying curls, a button-up shirt, and a cardigan (but also with some very aggressive black tattoos creeping out from under his collar). No rhinestones, no fleece, no painted denim. Really a charming bloke.
So likable, in fact, we had a hard time asking him what he thought about his name being licensed to hell and back. Seriously, if you haven't noticed, Ed Hardy is on everything from energy drinks to auto air fresheners to diapers (ok, diaperbags, but you know someone's thought about it). But when we queried him, he very diplomatically responded, "I'm just glad that my designs get to shine on, and people appreciate them."

· Wacko/La Luz de Jesus [Official Site]
· Hardy Marks Publications (Don Ed Hardy) [Myspace]
For more stories from Racked LA, go to la.racked.com.
Copyright RACKL