Puppet shows are generally known for making kids and parents laugh, so hearing word that a beloved and historic puppet theater is going to close and be sold is jarring. It just doesn't fit the happy puppet milieu.
But that's exactly what fans of Bob Baker and his famous marionettes are grappling with this week. For after over a half century in the business, Mr. Baker has announced that he is shuttering and selling his downtown-close theater.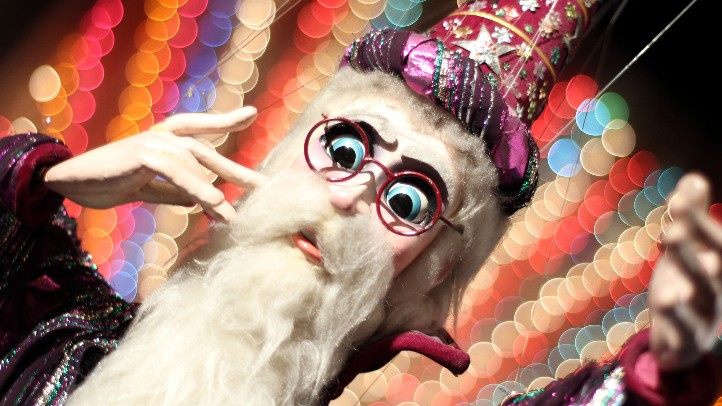 "Unfortunately the ticket sales just have not been enough to cover the overhead expenses of running the Marionette Theater," says Mr. Baker.
It's a shocker for people who grew up in Los Angeles going to the sweet, old-time venue, and for puppet fans the world over. The theater's founder has been written about with affection by no less than the New York Times, which doesn't surprise. After all, both his particular puppet flair and his admirable longevity in the business of marionette merrymaking has made him very much a star in certain circles.
There is a silver lining to this story, however; Mr. Baker and his marionettes will continue to perform, just not at the building so many Angelenos have laughed in over the decades.
The listing for the West 1st Street property is here (it not only includes the theater but adjacent lots and warehouse). Mr. Baker says he'd consider a "leaseback arrangement" and is open to keeping the theater going with a new owner.
For more information and to follow the campaign that has sprung up to save the theater, visit the Bob Baker Marionettes Facebook page. People adore the man, his puppets and their particular LA history, so the support has been as admirable and heartfelt as one would hope.
Check it out if you want to make a donation or book a visit to lend a hand. Sometimes pulling the strings on such things takes a whole community.
Follow NBCLA for the latest LA news, events and entertainment: iPhone/iPad App | Facebook; | Twitter; | Google+; | Instagram; | RSS; | Text Alerts | Email Alerts
Copyright FREEL - NBC Local Media