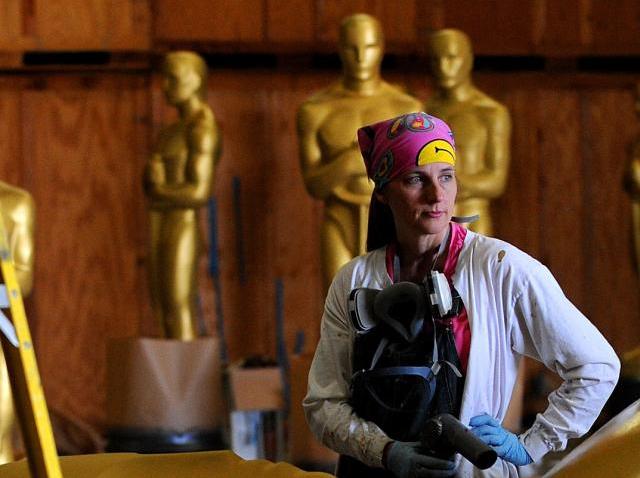 In a time where the topic of jobs-to-fill is prevalent on so many minds, there remains a coveted position with no name attached: the role of producer of the Academy Awards. Entertainment Weekly just had an interesting piece on the search for the person who will helm the 2010 show.
It's no easy task, filling those particular shoes. Asking stars to sit in particular spots and smile on cue and getting the dance numbers in on time and pleasing absolutely everyone. Challenging. We think getting that gigantico curtain up over the entrance to the Kodak must be a feat unto itself.
But while the search continues, a role *has* been filled, as it is every year: Oscar will be playing Oscar. The iconic gold men that dot the show are housed year-round at an undisclosed, hush-hush location. And, though it is only October, and the Academy Awards will take place on March 7th, a series of photos were just released showing the statues getting spiffy.
Already! And we haven't even *thought* of what pajama bottoms/sweatshirt top we'll be wearing, or what kind of guacamole we'll be making for the big night.
But one thing's for certain: We best start prepping our pool right now. There will be 10 Best Picture nominations this time around. Which means we have to start seeing everything, right now, lest we want to spend late February running from theater to theater, downing a box of Junior Mints for dinner every night.
Mmm. Junior Mints for dinner every night.
Copyright FREEL - NBC Local Media