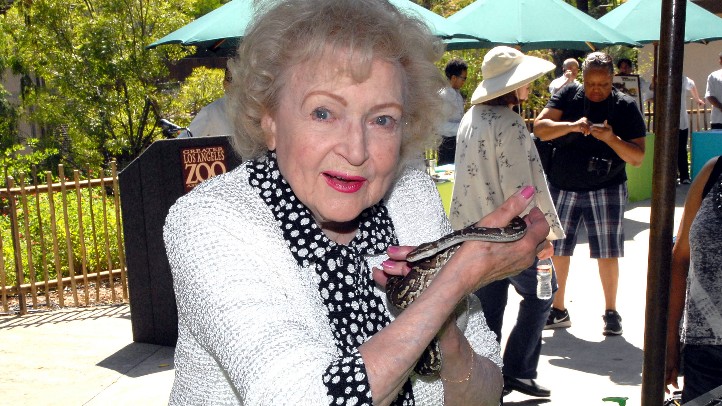 It's simply a true fact that, pretty much any day of the week, Betty White is doing something cooler than most of us.
We can accept this? Good. We mean, please. Picture above? The pink nails and the snake? That's classic BW, given her flair for life and love of all things animal.
That love will be on display on Saturday, June 16 when the beloved actress once again co-chairs the Beastly Ball, the Greater Los Angeles Zoo Association's annual fundraiser. It's at the zoo, of course, so not only will you be hobnobbing with some pretty starry animal aficionados, you'll be hobnobbing adjacent to the animals.
Sarah Michelle Gellar and former LA mayor Richard Riordan are the evening's two honorees.
A ticket is a thousand dollars. It's certainly a goodly amount of money but here's an even more impressive figure: The fundraiser tops a million dollars every year, money that goes to support the beasties of the Los Angeles Zoo.
Cocktails and appetizers are on tap for the humans; animals will eat what they usually eat, so if you go be sure to catch one of the feedings planned during the evening.
An auction, dancing, and other outdoorsy haps are planned for the June 16 night.
One last question: Any guess as to what Ms. White is petting in the lower image? Yep, it is a skink. Again, we say, that Betty White is pretty much doing something cooler than all of us, put together, at any given moment of the day.
Copyright FREEL - NBC Local Media