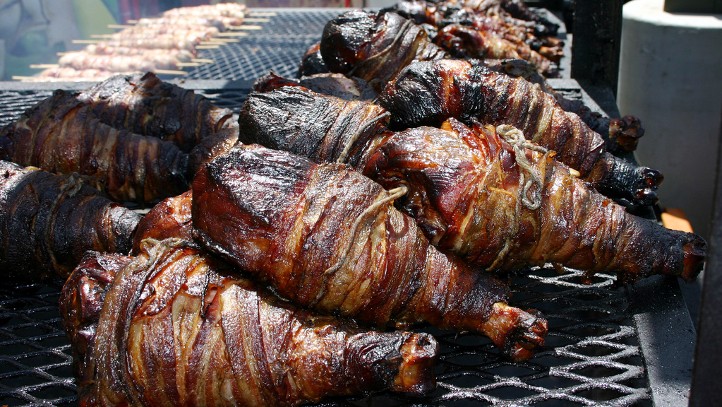 A portrait of what works at a county fair isn't always told by the admission counter at the gate.
It's also told in the concert admissions sold, in the number of times an attraction goes round and round, in how many people donated helpful items, and, yep, how many 17-inch Big Ribs were consumed.
The Orange County Fair has now wrapped for another year -- collective "aw dang," everyone? Okay, moving on -- but the numbers of what sold and to what purpose fascinate us nearly as much as the shiny twinkly lights of the Ferris wheel. (Okay, we can stare slack-jawed at that for several minutes, truth be told.)
Here are a few fun facts: Over 12,000 veterans and active military entered the fair for free as part of the Salute to Heroes program. And over 79,000 fair attendees donated a school supply or canned food items and received a discount.
Nice? Nice.
Now, about the aforementioned Big Rib, one of the headliner foods of this year's Costa Mesa-based extravaganza. Over 3,900 were sold in all -- impressive, given the dish's impressive size -- but here's something of interest: Just under one-third of the Big Ribs sold were packed to go home with the Big Rib buyer. In other words, they wanted that meat for home-eating. And the biggest to-go order? Twenty Big Ribs. Can you imagine that party? We hope the mega rolls of paper towels were out.
It's a bit fitting, to take the fair food home; after all, this year's theme was "Home Sweet Home." The 2012 OC Fair wrapped on Sunday, Aug. 12; watch this space for the 2013 dates.
Follow NBCLA for the latest LA news, events and entertainment: iPhone/iPad App | Facebook; | Twitter; | Google+; | Instagram; | RSS; | Text Alerts | Email Alerts
Copyright FREEL - NBC Local Media