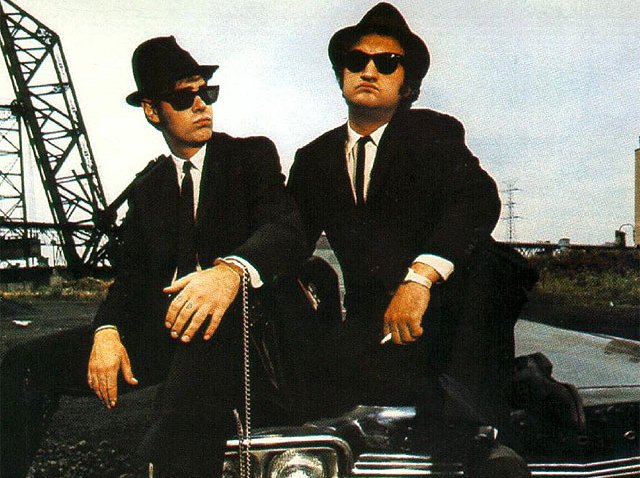 "Are you the police?" "No, ma'am. We're musicians."
It's practically law that you must immediately quote "The Blues Brothers" upon seeing a photo of the Blues Brothers. And when you're gathered with a bunch of Jake & Elwood fans? Hoo boy. Stand back, because the lines'll be a-flyin'.
If this appeals, we're betting you'll be at the Million Dollar Theatre on Broadway on Wednesday, Oct. 5. That's opening night for the new Wednesday night screening series from the UCLA Film & Television Archives. And yep, the archives will unleash some Jake-and-Elwood-style sweetness to help our mid-week.
We're liking several things about this series, which will run every Wednesday through Dec. 21. One, UCLA is taking it on the road and landing in one of our city's most atmospheric, storied, barber-shop'd movie houses. (You know about the Million Dollar's old barber shop, right? We're obsessed.)
Two? A vintage movie series'll roll downtown for the bulk of the fall. Love the LA Conservancy's Last Remaining Seats, but that's only on for part of the summer. Wish it could be all year.
Three? It's ten bucks a ticket.
And four? The handpicked movies. Let's call them "recent vintage." "The Blues Brothers" and "Easy Rider" and "Barton Fink" and "Superman." Which we cannot mention without typing this line: "You've got me? Who's got you?"
Oh movie lines. You're so good and you're so stuck in so many brains. "The Blues Brothers" is definitely at the front of that particular pack, so best get to the Million Dollar on the 5th to get your happy fill.
Follow NBCLA for the latest LA news, events and entertainment: Twitter: @NBCLA // Facebook: NBCLA
Copyright FREEL - NBC Local Media