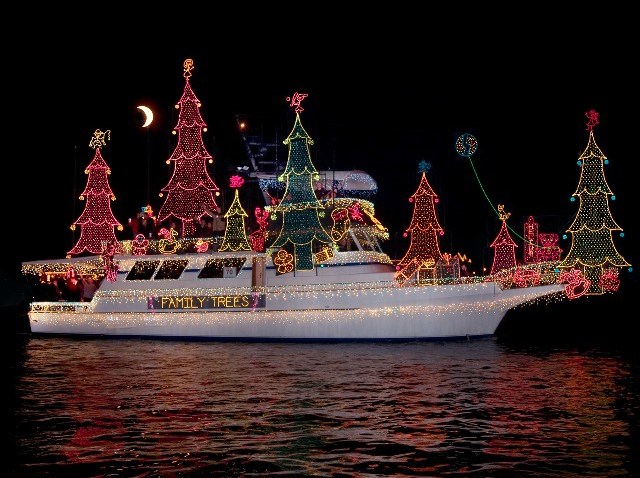 Sometimes, when you're telling a friend you'll be doing something, something you like to do year after year, you have to sell it a bit. Maybe it is a little small in scale, but charms you, but its pluses aren't immediately relevant.
The Newport Beach Christmas Boat Parade, which runs from Dec. 15-19 in 2010, is ALL pluses that are immediately relevant. In fact, we're half-tempted to put at least sixteen more words in this post all in capitals. We just might.
Let's start with the fact that this WORLD-FAMOUS on-the-water spectacle has been happening for OVER a century. (We fought the urge to capitalize "century" there.) We realize that many people who don't know and love the Golden State like we all do think that a century ago, much wasn't happening here. WRONG. (Putting that in all caps felt great.)
Okay, we'll give the caps a rest, but not the showering of accolades. The much-loved, much-watched Pacific-gliding parade happens over five nights. The people who decorate the vessels go all out. We're talking bulbage on an epic scale.
Yachts are decorated. The occasional rowboaty-type skimmer. And everything in-between. There are "millions" of lights, say the parade organizers, but multiple that number by two, because they'll reflect off the water and get all super-pretty. Sorry. SUPER-PRETTY.
You're feeling the caps here, certainly if you've been to Newport Beach during this very famous week. Get details on dinners, where to watch, where to park, and the so-forthery.
Copyright FREEL - NBC Local Media