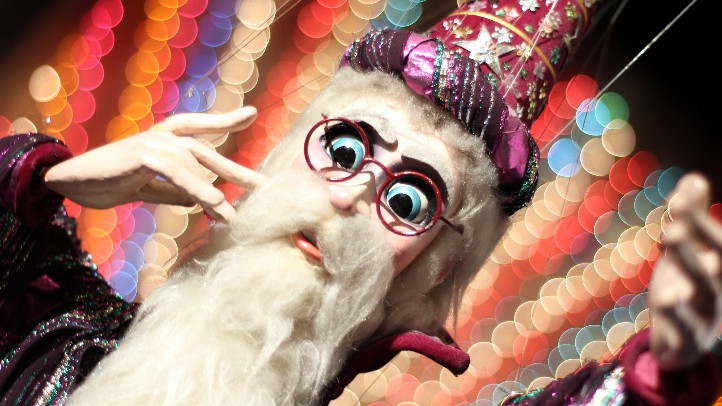 People sometimes moan and groan and do other words rhyming with "-oan" at the thought of the holiday season kicking in prior to Thanksgiving.
Then you mention the words "puppets" and "marionettes" and the moaning and groaning mysteriously ceases. Because things on strings are exempt from holiday timelines, and thank goodness. We want our mirthful merriment and songs and we want them now. And if Bob Baker is delivering the merry? We're ready to stop typing and head directly to his historic, downtown-close theater.
Mr. Baker is a local icon and worldwide legend in matters of puppetry. His theater is the oldest puppet house in the nation -- it marks 51 years this year -- meaning his annual holiday spectacular is much anticipated. The spectacular opens on Saturday, Nov. 12 and trots right through New Year's Eve.
What can attendees expect? The Wizard of Fantasy'll be on the open stage -- he's pictured -- as well as the wizard's sidekick Demi Star. Some 100 marionettes in all will summon the spirit of Chanukah and Christmas and the sparkly, Santa-sweet joys of the season.
If you've never been to the theater, you are in for a true treat. Our favorite bit? The puppeteers -- or would they be marionetteers in this case? -- are in full view of the audience. Kids, in general, are enthralled at seeing the people usually hidden behind the curtain, and how those artists operate the rather complicated strings. Adults are enthralled, too.
"Mom, how do all the strings not get tangled?" It's a question everyone has, whether they attend with their mom or not. We still have it.
A ticket is $20; tots under age two are admitted free.
Follow NBCLA for the latest LA news, events and entertainment: Twitter: @NBCLA // Facebook: NBCLA
Copyright FREEL - NBC Local Media