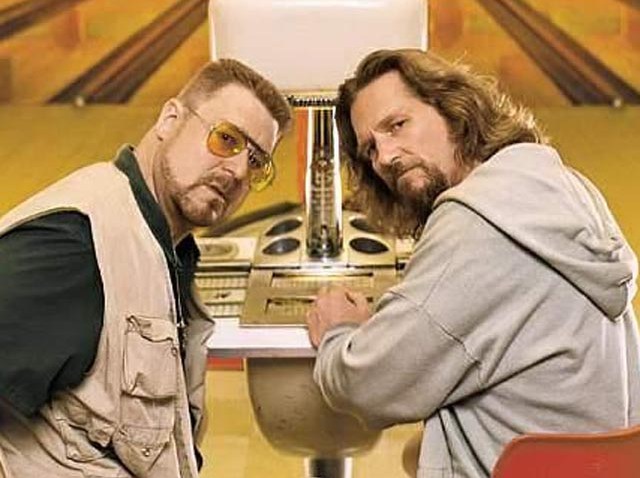 World, you are right. LA does have pretty high self-esteem, so high that we like to use terms like "self-esteem" when referring to our self-esteem.
And LA does like to see itself on screen. So it helps that LA has been featured in some good movies over the years. Three are ahead on Saturday, July 17:
"The Big Lebowski": It's playing at Exposition Park on Saturday, July 17 as part of the Outdoor Cinema Food Fest. Given this heat wave we recommend *not* wearing the heavy roll-neck sweater, or even your saggiest bathrobe, but Dude-esque flip-flops'll probably capture his particular joie de vivre. There will be food trucks and lots of 'em, so our guess is you'll be able to buy some sort of liquid refreshment, meaning you can say "hey, careful man, there's a beverage here!" as much as your friends can take.
"Bring It On": Few films have cast that particular brand of sunny, chin-up brand of Southern California ambition. While it doesn't take place solely in Los Angeles, cheerleader extraordinaire Torrance -- best film name in a good long time -- drives to East Compton to watch a rival squad. Also, can we leave this paragraph without writing the words "jazz hands"? We cannot. The New Beverly screens the film in honor of its 10th anniversary on Saturday, July 17; a few cast members are scheduled to appear, plus screenwriter Jessica Bendinger.
"The Kids Are All Right": Oh but this film is getting the raves from all corners. Bravo. We like an emotional, family-oriented story in the middle of the loudness of summer. Annette Bening and Julianne Moore are LA parents raising a pair of kids who search and find their birth dad in the form of one Mark Ruffalo. Holy cow yes. Director Lisa Cholodenko is Q&Aing at the ArcLights Sherman Oaks and Hollywood on Saturday, July 17. Times/details
Copyright FREEL - NBC Local Media