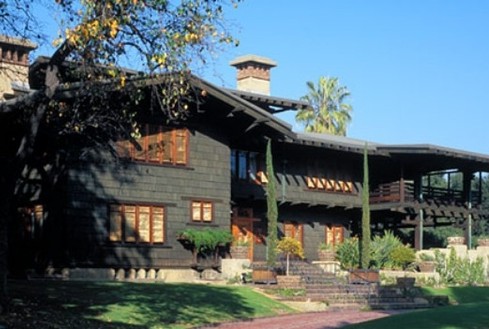 Those little slip-on cloth booties? That go over the shoes? There are only a few places on the planet you're asked to wear them.
The glass-bottomed Skywalk at the Grand Canyon. Probably certain important rooms in high-end science laboratories, NASA, we imagine, or maybe JPL. And Pasadena's most famous residence, the Gamble House.
So it surprised, and then immediately delighted, us to learn that the Greene & Greene masterpiece will soon be doing brown bag lunches, starting on Tuesday, April 13. This will be a Tuesday-only thing. There are details, there are tours, there are times.
We have never equated cracker crumbs and Craftsman landmarks. But you won't be dining on one of the house's famous rugs, or the much-photographed staircase. You'll eat on the porch, or, if you prefer, that impressive lawn. Would we call it a rolling lawn? We would. It's the very definition of one.
Thank you, LA Times, for telling us this spring-sweet news. We want to take you to lunch, and on a tour of the Gamble House. But will the booties fit?
Copyright FREEL - NBC Local Media