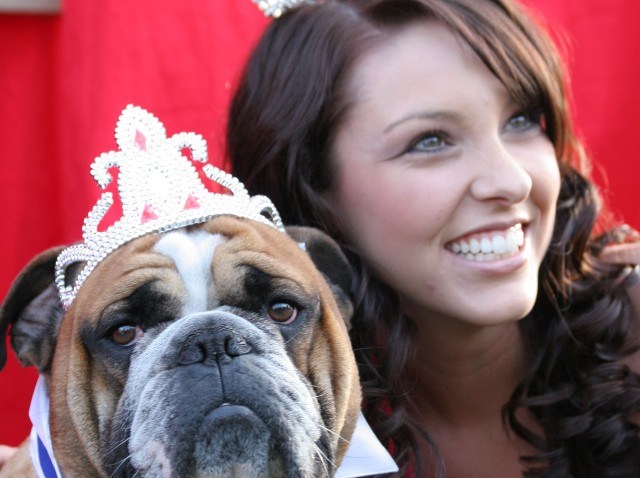 Quick, local Lassie lovers: What was the breed of the dog that the only official off-leash dog beach in LA County was recently named for? Can you name the beach? And the dog?
We're thinking you probably can. After all, that dog was Rosie, a Bulldog, a pup so famous she made the cover of Westways magazine. She also presided for many years over the Haute Dog parades in Long Beach (Rosie's person Justin Rudd is the organizer). And her beach is sweetly monikered and easy to remember Rosie's Dog Beach, in Long Beach.
Rosie passed away last year, but her snarfly spirit lives on in the Bulldog Beauty Pageant, which is going down on Sunday, Feb. 13 at Marine Stadium in Long Beach. Not only will Bullies be queuing up to compete, but Pugs, too, and French Bulldogs. Plus Senior Dogs. There are actually a full spectrum of categories, so read all, entry fees, and whatnottery.
Who's doing the judging, by the by? "(R)eal-life beauty queen judges." Oh, and there's an actual red carpet, too.
It's free to watch, even if you don't have a doglet in competition. Just make sure you put your camera down, no and then, the better to soak up the action.
Copyright FREEL - NBC Local Media