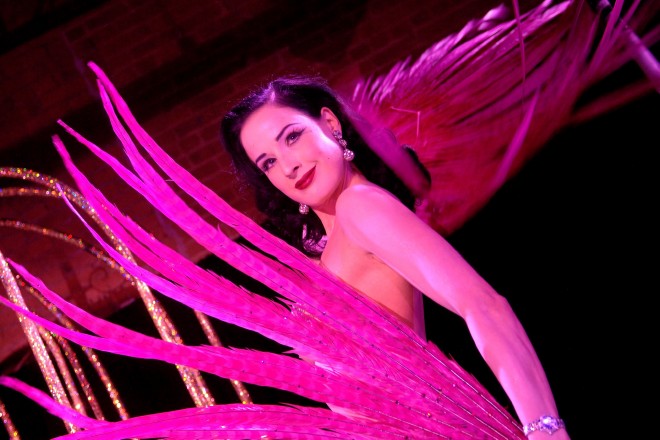 Please. Not another night in front of the mirror, practicing your tassel twirls and shoulder dips while your roommate bangs on the bathroom door demanding her prescription shampoo *this instant* or else. There are people in this town who know how to sexy dance, and there are people who could take notes, mainly all of us save Dita Von Teese and a few talented, be-feathered ladies.
Miss Von Teese, Ava Garter (described as DVT's protegee; a lucky pupil indeed) and Liz Goldwyn (she did a film and book about burlesque) appear at LACMA's Bing Theater to discuss the art of the sloooow glove peel and the brave costumers who toiled to outfit the delicious dancers of the past. (Seriously, consider how tricky the task is to make someone look kind of naked-y without *too* much naked-y; there are only so many strategically placed, sequin-covered pasties in this world). We also hope there is talk of how to perform come-hither looks. Oh, and gams. How has "gams" left the popular vernacular? We'd like a word with the popular vernacular.
Whatever Dita's wearing, you know it will be hello! Gorgeous. Her wardrobe? Want it. But let's be honest. The little berets that look so dashing on her pretty coiffure make us look more like sad, soused elves than burlesque superstars.
Monday, November 17, 7:30PM
$50 (non-members)
Los Angeles County Museum of Art, 5905 Wilshire Boulevard. 323-857-6000
Copyright FREEL - NBC Local Media